The Sagu Mini Resort Hotel In Ilha Grande
A closer look at the Sagu Mini Resort located in Ilha Grande.
Inspected by our Hotel Expert team.
Sagu Mini Resort is a pleasant 3 star resort located on the beautiful island of Ilha Grande. It is around 3 hours from Rio de Janeiro, Brazil.
The hotel offers 9 rooms in all. They are luxuriously spacious. Two suites are placed at different levels. Rooms have private veranda with comfortable hammocks to let you lay down and relax. The rooms have all the contemporary amenities. They are well air conditioned. You get a mini bar too. Then there are orthopedic mattresses. Bathrooms are comfortably large. Then there are telephone and internet connection too. The water here comes from natural springs and are heated by solar panels.
Besides enjoying a relaxing holiday in the calm and tranquility of the island, you can also try new flavors in our restaurant, inside the inn. Not to mention, of course, it is lovely to have a breakfast on a deck above the rocks with panoramic views of the sea and mountains.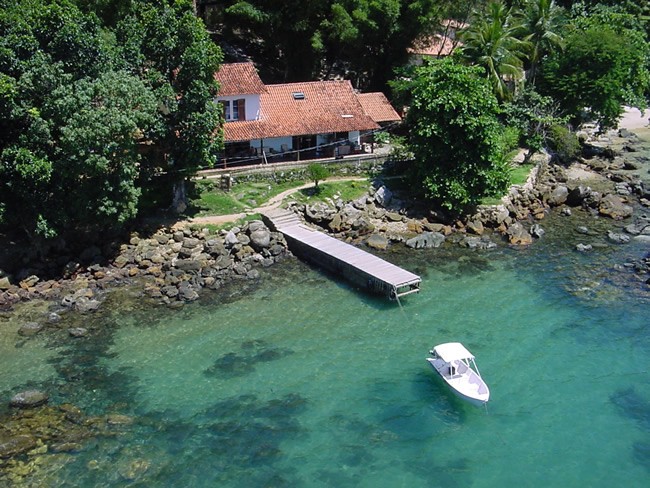 There are many activities offered by the resort to make your stay a memorable one. One can pamper oneself in the massage. You can have fun in the blue waters sailing or kayaking. Then you can peacefully go for fishing. Keeping you entertained with the modern luxuries it brings you closer to nature at the same time, offering the breathtaking sea view. Services like laundry/ironing, room service, shuttle service (i.e. to/from town centre), and vehicle hire/car rental can be arranged easily.
If in a mood to travel around, cabs, travel guides can be booked from the resort to view the beautiful island of Ilha Grande, which is famous for its scenic beauty, which includes tropical beaches, luxuriant vegetation and a rugged landscape. The island is one of the most pristine remnants of Brazil's Atlantic rainforest, one of the richest ecosystems in the world, and a hotspot for biodiversity and conservation. It holds some of the largest remaining populations of many endangered species. Thus there is a lot to do in this charming town and in fact the hotel itself offers so much that 24 hours will seem less.
Sagu Mini Resort is one of the best on the island and is an ideal location for honeymooners as well as the entire family. Visitors have given it a thumbs up and have always cherished their stay at this wonderful hotel. So, if you are dreaming a relaxing holiday, then pack your baggage and set for Ilha Grande in Brazil. Sagu Mini Resort is there to make your dream come true!
17 de Dec de 2010