Rio Carnival Tickets
The Rio Carnival Tickets – A Must have in Every Tourist's Pocket
The Rio Carnival tickets should be on your must-have list this summer if you are planning to be anywhere in the vicinity of Brazil this summer.
A Never Ending Party
The Rio Carnival days are days of outrageous color and gaiety. The whole of Brazil explodes into a seemingly never-ending party. It is a wild, wild four days of festivities before the solemn time of Lent commences. The last big party till Easter dawns, precisely forty days later. Hence, people go all out to celebrate this great moment when all differences melt away in a huge wave of rollicking fun.
The dates of sale of Rio Carnival tickets are scattered for convenience and better handling of the booking process. The first reservations for the Carnival 2014 were in November 2013. The longer one delays, the more difficult it is to procure tickets as the demand for them is reportedly four times the supply. Brazil has tourists visiting in droves during carnival time. Those who cannot make it to the official venue of the parade the Sambadrome, for whatever reason will gather outside it and celebrate it in their own way.
Stay tuned for Rio Carnival.
Follow our BLOG
Subscribe to our NEWS.
Befriend our mascot KOKO on FACEBOOK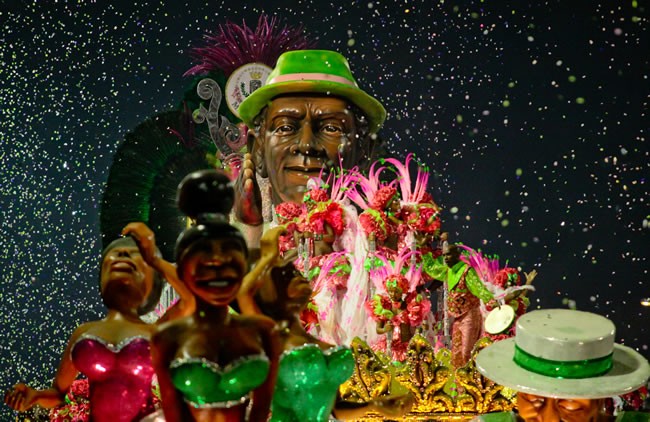 Most Popular Days
Usually, the Rio Carnival tickets for the Sunday and Monday nights of the carnival sell the fastest as on each of these evenings six of the best twelve Samba schools have their parades. Keeping in tune with recent developments, the Rio Carnival tickets are available online these days. The seating is explained in great detail with great visuals so you can choose for yourself the ones most suitable for you.
Although it pays to give just that little bit extra to celebrate what could undoubtedly be the most memorable night of your life. You will be the envy of everyone when you go back home and regale them with the experience that is the Rio Carnival.
After learning all about the Carnival and the limited seats, aren't you just dying to lay your hands on the precious Rio Carnival tickets for 2014?
How about parading with one of the Samba Schools and wear a fabulous costume? Click here to purchase it !
07 de Jan de 2014
1 COMENTÁRIO