The Quinta Do Bucanero Pousada Hotel In Praia Do Rosa
A closer look at the Quinta do Bucanero Pousada located in Praia do Rosa.
Inspected by our Hotel Experts.
Quinta do Bucanero Pousada is one of the finest 3 star hotels  in front of the Rosa beach, Brazil. Located in a tranquil 12000 square meter of peaceful surroundings amidst lagoons and the sea, it provides the ideal place to relax and have fun.
There are ten well furnished comfortable guest rooms at your disposal. They are equipped with all modern amenities like air conditioning, telephone, DVD player, mini bar, safe for your valuables, bath robes, hair dryers, spring mattresses, feather pillows and television. Each room has splendid sea view. They have a cozy ambience that makes you feel completely at ease. The comfortable lounges include a warm fireplace reminding of yester years and providing a quiet moment with your beloved.
The staff is well trained and efficient and ready to serve you with a smile, the warmth in their greetings itself will make you feel special. There will be nothing one can complain about.
There is a lounge and bar on the sun terrace to sip your favorite drink and at the same time have a relaxing conversation with a friend. Then there is a swimming pool overlooking the sea that invites you to take a dip and then join the Jacuzzi beside it. Club Bucanero here has two heated Jacuzzis with fitness centre, massage room, sauna and relaxation centre. One can have fun playing games in the games room. One can go mullet fishing in the falls. The beach is called paradise for surfers so surely water lovers can go surfing anytime they want. Also the sea is breeding area for whales, so there are tours that specialize in monitoring whale watching. In winters one can have the privilege of catching sight of the majestic Franca whale. One can also get closer to nature by going on ecological hiking trails. The resort is an ideal example of an eco resort. It is surely an ideal getaway.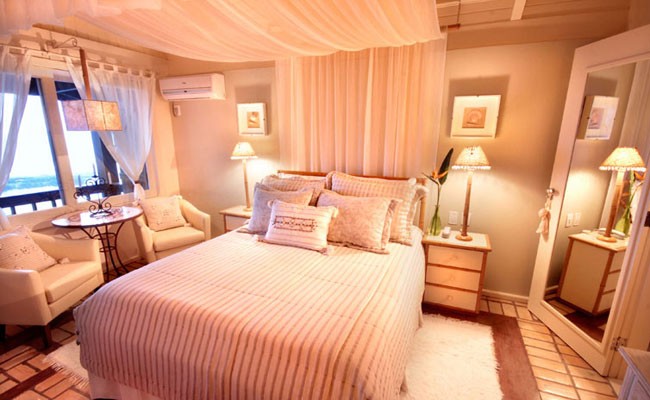 The restaurant is pretty commendable. It serves Italian and Swiss specialties. The really good sea food served in the ambient settings will give you a reason to smile. The setting itself will serve as an appetizer and lift your mood
You can easily check the availability of rooms and the tariff online and can also book he rooms, too, over the net. Families, singles, kids, adults alike are assured to have a memorable stay at the Quinta do Bucanero, Praia do Rosa, Imbituba, Brazil.
30 de Jul de 2011