The Praia Ipanema Hotel in Rio de Janeiro
A closer look at the Praia Ipanema located in Rio de Janeiro.
Inspected by our Hotel Experts.
Praia Ipanema is a beautiful and comfortable hotel on the west end of Ipanema beach near Lebon. The location is even more perfect being a corner one thus offering every room a splendid view. It is within walking distance of the best of whatever Ipanema offers.
Guest rooms are categorized as Suites, Deluxe Rooms, Master Superior Rooms and Master Deluxe Rooms. Each room is well furnished, and equipped with everything you need to make yourself comfortable. The apartments have broadband internet connections too to let you stay in touch. There is plenty of space in each room to let you work at ease. Non smoking rooms are available for your convenience.
The hotel in all has a nice ambience. Neon lights in the hallway lend a mid eighties Miami touch to the interiors.
For those visiting with a business purpose, a well equipped business centre is there.
All your worries even trivial ones like laundry are put at ease. The laundry/ dry cleaning service is there. There is beach service too. The 24 hour room service is prompt and efficient. The staff is well trained and always ready to serve you with as smile.
Breakfast served is sophisticated and tingles your taste buds. Lunch and dinner is equally amazing and offers a range of traditional local as well as international cuisine. The evening food at the Pool bar restaurant is pretty commendable and recommended.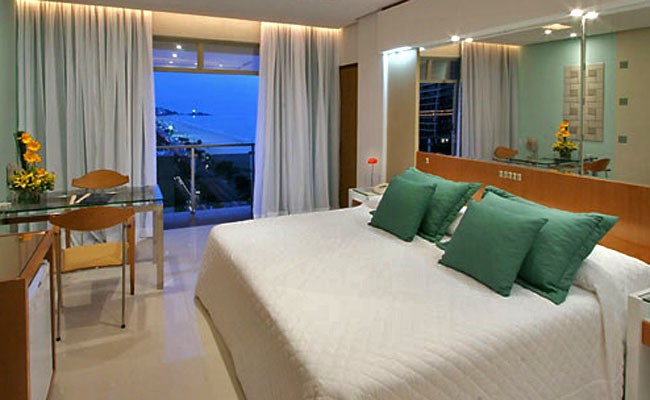 Fitness freaks can access the fitness centre or gym or run down the pretty town.  You can go on guided tours too which can be easily arranged by the hotel itself. You can go on a shopping spree as the local shops are pretty near in and around Praia Ipanema.  Rio in fact has loads of eating options. Money is also not an issue, there is a 24 hours ATM a few blocks away.
The staff is well trained and efficient and always ready to serve you with a smile. They are very helpful and help provide directions, order taxis and giving food recommendations. Every whim and fancy of yours is taken care of.  They speak in fluent English.
Overall one enjoys the stay completely at Praia Ipanema. It is a perfect place to explore the charming town of Rio de Janeiro from. Whether travelling with family or alone; to get away from the hustl and bustle of daily routine life or simply to have fun, this is the right place to be.
02 de Nov de 2010