Porto Seguro Tours Promise Buggy Rides, Tall Slides and Coral Dives
Explore the lush remnants of the Atlantic Forest or relax on one of the pristine Porto Seguro beaches.
Porto Seguro is a city in Bahia Brazil surrounded by beaches and a tropical jungle. It is the spot where the famous Portuguese explorer Cabral first stepped on land in Brazil in 1500. Today it is a major tourist destination known for its glorious beaches.
One of the most popular Porto Seguro tours is a visit to Recife de Fora during low tide. Schooners take visitors out to the reef to look at the fish, coral and other sea life. Dive tours are also available. Another of the Porto Seguro tours is a trip to Monte Pascoal National Park with its swamps, marshes and high hills. It is here the last remnants of the Atlantic Forest still exist. Many of the threatened species in Brazil live here including the Black Burs and Collar Sloth.
While travelers can take Porto Seguro tours on foot, there is an alternate mode of transportation. There are several buggy kiosks where visitors can rent these vehicles. They are much more fun to drive than walking around the city.
Porto Seguro beaches are known for their turquoise waters and pristine white sands. Tourists flock to Terapua Beach with its stretch of hotels and wealth of activities including dance lessons and exercise class as well as paragliding, water sports and helicopter tours.
The less busy Porto Seguro beaches are Curuipe, Itacimirim and Mundai beaches. Curuipe has lovely little pools with coral when the tides are low. Rio dos Mangues is known for its mangrove trees and reef pools. If you want a beach all to yourself visit Muta Beach as it is never very crowded.
The Porto Seguro beaches are not the only place to go swimming in the area. Arraial d'Ajuda Eco Parque is situated just across the river in the town of Arraial d'Ajuda. This water park is filled with exciting rides and attractions including high water slides, a wave pool, zip lines that fall into the water, a lazy river, boat rides and water games.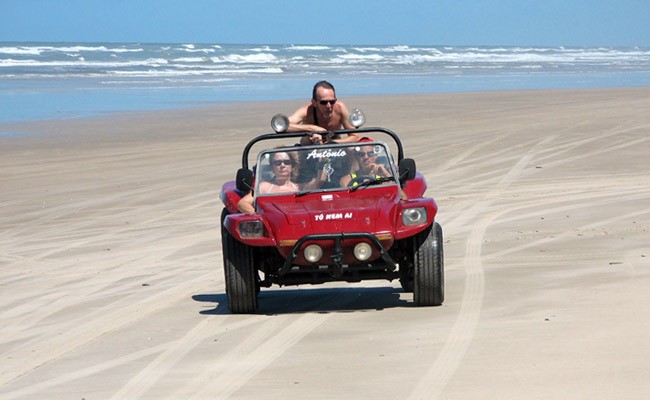 So are you ready to get come to Porto Seguro and get wet?
21 de Nov de 2010