Porto de Galinhas: Discovering a nice getaway
You will love Porto de Galinhas as there are so many things to do here!
General info about Porto de Galinhas
Porto de Galinhas is a town in Pernambuco at the northeastern part of Brazil. This is a fantastic beach town and is a weekend getaway from the city of Recife. It has amazing reefs and it is generally a pleasant area to visit if you are in need of some underwater adventure. The place is teeming with amazing accommodations. It has a very laidback and pleasant atmosphere and is just a fun and amazing place to go to recharge and relax. Porto de Galinhas is quite small so walking around is the best way to travel in this place. You can reach Porto de Galinhas from Recife by taxi or by bus.
Accommodations in Porto de Galinhas
The accommodations in Porto de Galinhas range from posadas to 5 start hotels. There are great pousadas that you can take advantage of because some of them are really spacious for family usage instead of having a massive room in a hotel that could cost so much more. The pousadas are usually in strategic locations around Porto de Galinhas so you are sure that you will get a pleasant view of the sea. If you wish to go high end, there are 5 start hotels that can attend to your luxury needs. This is a great location for exciting experiences so splurge all you want because you deserve it. Check out options like Dorisol Porto De Galinhas, Solar Porto De Galinhas, Summerville and Nannai Resort.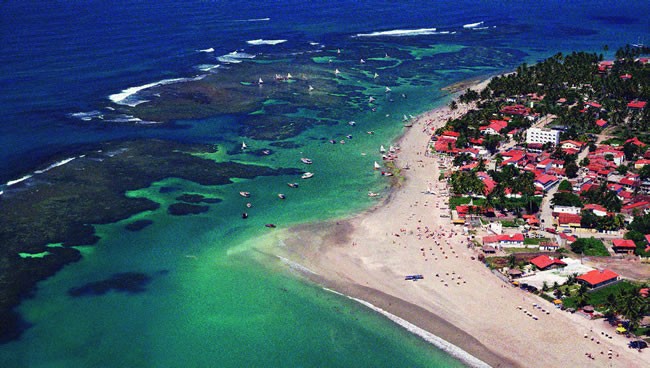 Activities in Porto de Galinhas
The most glamorous things can be done in Porto de Galinhas. You can go swimming, check the reefs on a low tide (authorization required), watch surfers, go to a Caribbean-style island, rent a boat, ride a buggy and just enjoy the sun and the waves. You should also go by the beach to eat some of the scrumptious barbecued seafood and meats. Check out the streets for some nice arts and crafts that you can buy as a souvenir of your stay here in Porto de Galinhas.
Learn more about Porto de Galinhas: List of hotels, tours, packages and much more!
04 de Feb de 2011