The Porto Bay Rio Internacional Hotel In Rio De Janeiro
A closer look at the Porto Bay Rio Internacional located in Rio de Janeiro.
Inspected by our Hotel Experts.
Porto Bay Rio Internacional hotel is an exquisite hotel in Rio de Janeiro. It is undoubtedly the perfect location for a vacation. Situated in Avenida Atlântida and overlooking the Copacabana beach, it provides you closeness to nature and at the same time, all the luxuries of the modern world.
The hotel boasts a total of one hundred and seventeen accommodation units. The rooms are comfortable and elegant. They are comfortably large and are well equipped with all the amenities. The fourth floor in fact has three modular function rooms decorated in contemporary style. There is sophisticated lighting in each room and have wireless high speed internet connections. The view is of the pretty beach which can mesmerize you anytime of the day.
You can take a dip in the outdoor pool which is actually perched on the roof top. This surely will be a unique experience. Or you can sip your favorite drink in the bars. Fitness freaks can work out in the gym and at the same time, enjoy the panoramic view. You get 24 hour prompt room service. Sparkling wine greets you on your arrival at Porto Bay Rio. To pamper yourself, you can visit the sauna or relax in the relaxation room. For those who are visiting on business purpose, business centre is open 24 hours which is well equipped plus fax, scanner, broadband internet and digital telephone also. In case you wish to throw a party, banquet services can be availed. Concierge service is also there.
Trivial worries like laundry service are also taken care of. In case you wish to enjoy the time alone, it is ensured that your kids are in safe trained hands provided by the babysitter service. So that language is no barrier in your comfortable stay, interpreter is there to help bridge the gap. In fact, our Japanese friends get special treatment. Special Japanese tea, Japanese newspaper and even Japanese television channels are there.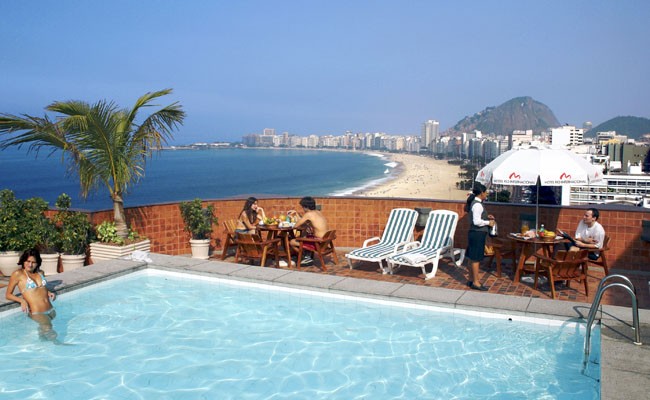 There is the special delicate touch to the cutting edge modern features. Fresh flowers, chocolates and special amenities are provided for ladies. Bathrobes and Hawaiian sandals or slippers are there for you too.
Considering safety and security are of prime importance, even they are taken care of. Alert security is employed. One can get a doctor on demand too. Families, kids, singles, adults; tourists, businessmen alike are sure to enjoy the stay at Porto Bay Rio, Rio de Janeiro, Brazil.
22 de Nov de 2010