Porto Alegre Prides Itself In Excellent Hospitality At The Sheraton Porto Alegre
A closer look at the Sheraton Porto Alegre located in Porto Alegre.
Inspected by our Hotel Experts.
A 15 minutes drive from the Salgado Filho International Airport will take you to the Moinhos de Vento where this gigantic and marvelous Sheraton Porto Alegre, Porto Alegre, Brazil is located. As you step  into the Sheraton Porto Alegre Hotel premises, you will be welcomed by the warm tropical colored décor that itself gives a soothing and relaxed feeling.
Sheraton Porto Alegre has 171 magnificently designed and comfortably equipped guest rooms and suites which are categorized into Superior Room, Deluxe Rooms and Exclusive Suites and in addition there is the exclusive floor with suites decorated thematically that speaks about the invaluable cultures of Orient, Tahiti, Argentina, Brazil, England, and New York City.
All the rooms are non‐smoking rooms. Apart from the necessary amenities, they are furnished with a mini bar, a 24‐hour room service, a 32" LCD Television, a dual line telephone, High Speed Internet Access, an In‐Room safe.
The Sheraton Porto Alegre's on-site restaurants serve you with international and tropical cuisines and have special dishes for the health freaks too.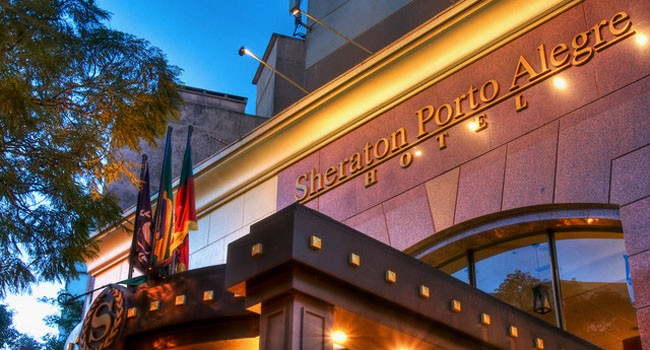 For casual meals or dinner they have Porto Alegre Bisto, a restaurant with internationally expert chef and his team who are sure to appease your taste buds with various international cuisines. All are A la Carte / Buffet.
The main attraction and an integral part of Sheraton Porto Alegre is the ultra modernized Moinhos shopping centre which consists of 100 boutiques, fashionable shops, four movie theatres and 15 restaurants.
To avoid language from being a barrier, they have staff who are multi‐lingual. The concierge service can be availed round the clock. In case you need to be picked up from the airport, they do assist you but at an extra but reasonable cost. If you bring your own vehicle it is well and fine, as they have the Self and Valet Parking Facilities.
Whant you can't miss are the upscale restaurants and cool and trendy bars located on the famous Walk of Fame Street which is close by, specially food lovers. The other local attractions include Winds of Mill Park.
In short, it is the perfect place for a leisurely trip.
29 de Oct de 2013