Portela – 2011 Rio Carnival Samba School Series
Learn the Samba and Synopsis of Portela Samba School for 2011 Rio Carnival
Synopsis for 2011
Theme: "Rio, azul da cor do Mar" (Rio, blue as the sea).
Portela school will take a journey through the different moments in the history of Navigation and celebrating the 100th anniversary of the Port of Rio de Janeiro. Portela will capture the audience by featuring several  kinds of ships throughout the Parade. Blue and White are the colors of  Portela School and will be displayed proudly as they tell the amazing factual and mythological aspects of navigation. Love is blue;  The sky is blue;  The sea is blue;  And among them navigates our dear Portela. Come sail with Portela samba school in 2011 !
Let's parade with Portela!!! Book your Costume now!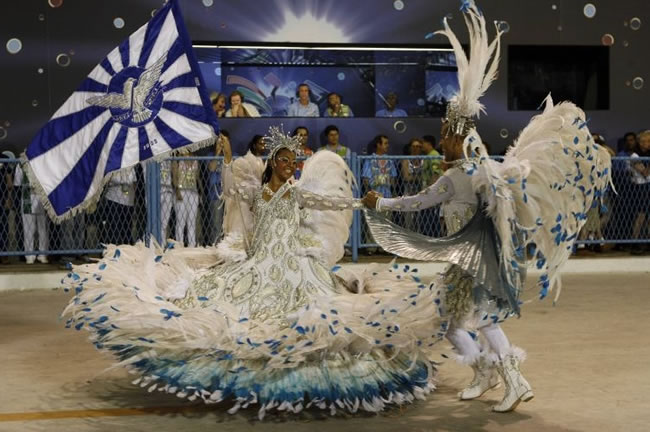 More About the Portela
Portela The Gremio  Recreativo Escola de Samba Portela, after undergoing numerous name changes finally registered as a Samba school under its present name in 1930. It is considered one of the oldest Samba schools in Rio de Janeiro. Its colors are blue and white and its symbol is the eagle. Every year, the eagle  makes the main float of the Portela parade, normally moving heads and  eyes or other innovative swings sure to please the crowds.
Tickets to enjoy the parade? Here!
Theme for 2011: Rio, Azul da Cor do Mar
Parading Date and Time: 3/7/2011 11:10:00 PM
Colors: Blue and White
Rainha (Queen):
President: NILO FIGUEIREDO
Carnival Art Director: Roberto Szaniecki e Amauri Santos
Book your hotel for Rio Carnival 2011!
03 de Jan de 2011