The Ponta Dos Ganchos Hotel In Florianopolis
A closer look at the Ponta dos Ganchos located in Florianopolis.
Written by our Hotel Expert team.
Ponta dos Ganchos Hotel is one of the exquisite hotels in Florianopolis. This secluded beach hotel is located beside the forested hills of Florianopolis giving the guests magnificent views of the beach.
Located in the private peninsula near Florianopolis in Brazil's south coast, Ponta dos Ganchos is among the top beach resorts. You are in the middle of nowhere and this dream resort provides you the ideal landscapes of clear sparkling waters, modern interiors of twenty five cabanas, private plunge pools, saunas and Jacuzzis and perhaps everything fit for a king.
In all there are 25 rooms and each is served efficiently by a well trained highly efficient staff. The fabulous position of the resort enables you to catch the finest views of the Ganchos bay and day and night you can sit and marvel at the beauty and not get tired. The beach is small and private, pampering you to feel like a princess who is served by her own beach. Lunchtime brings you fresh seafood snack. The clear calm waters is idyllic for swimming and relaxing.
The rooms are equipped with everything to make you comfortable including private sea view decks, DVD, CD players, some with plunge pools. You even have your private cinema where you can spurn the sun to watch your favourite flick. You may want to visit some of the famous beaches less than an hour's drive away but you have your very private one a minute's walk down. The indoor swimming pool too is rather sweet, being a private with warm Atlantic waters.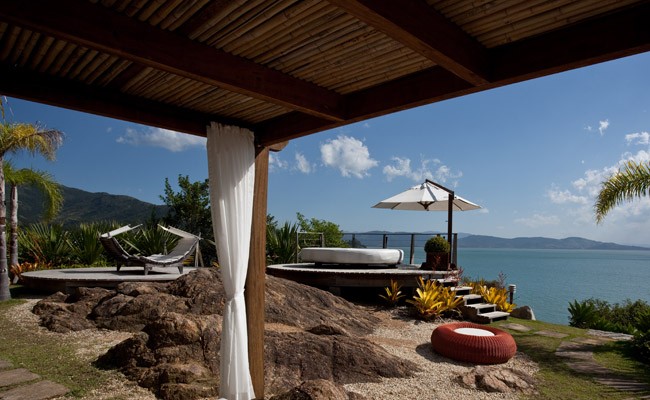 The daily rates include all meals, snacks, soft drinks, nautical equipments use. Staff is young friendly and always ready to serve you with a smile on their face. The quiet spot is perfect if you are running away from the hustle bustle of daily life. Kids are not for this place, that is to say kids are not allowed here. So it happens to give honeymooning couples or singles a perfect place to hide. The gorgeous private turquoise lagoon will perhaps you make you forget about the other world that exists with all its noise and activities. One of the most interesting things you could do here is swimming with dolphins in the local marine reserve. It is surely something you will remember all your life.
A pinch of Latin atmosphere with a touch of Brazilian architecture and a lifetime experience is surely a good enough reason to pick Ponta dos Ganchos, a resort which chooses to be different.
Visit Ponta dos Ganchos Hotel site, make your reservation, check the pictures.
28 de Jul de 2011