The Plaza Camboriu Hotel in Balneario de Camboriu
A closer look at the Plaza Camboriu located in Balneario de Camboriu.
Inspected by our Hotel Expert team.
If you are one of those leisure travelers who do not want to be very far from the city center facilities even while holidaying, then Plaza Camboriu Hotel is the right choice for your next holiday. Centrally located in the city of Balneario Camboriu, Brazil, this 4 star luxury hotel is very popular among the holiday makers from all over the world. Its convenient location allows easy access to most of the tourist attractions in and around Balneario Camboriu while letting the guests enjoy the city conveniences like banks, pharmacies, stores etc. as well.
The Plaza Camboriu Hotel prides itself on offering 170 well equipped and high quality rooms to its valuable guests. Each room is air‐conditioned and has modern amenities like shower, dryer, television, music system, mini bar, telephone and safe etc. Some of the rooms are non‐smoking, too. The rooms are spacious and have comfortable beds & mattresses. The view from the balcony is also stunning. A 24 hour room service makes your stay very enjoyable and convenient. And, you do not need to worry about your dirty clothes, a professional laundry and dry cleaning service is always there for your help. All the floors are accessible through modern elevator.
When it comes to leisure and sports facilities, the hotel boasts unmatched competency. A well equipped gym, a temperature controlled swimming pool and game room are some of the facilities that will keep you thrilled and engaged. And, your children will equally love the kids room that has been specially designed for them and that offers a variety of activities, usually assisted by well trained staff. Well, did we mention that a pristine beach awaits you just at a stone's throw from your hotel? Now, with such a leisure environment the only thing you could wish is a longer holiday!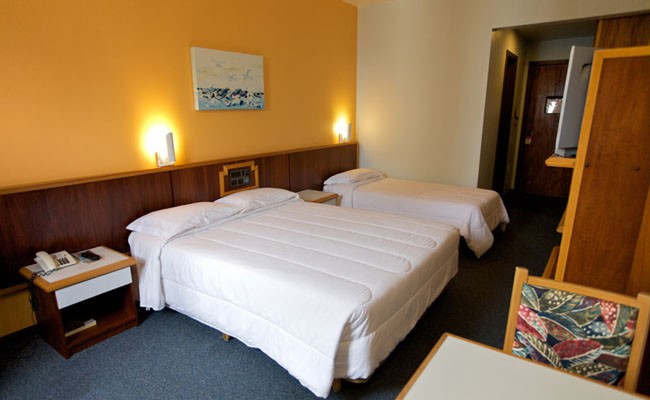 Hmm… does that all sport and leisure activities make you hungry and thirsty? Here comes the gourmet in‐house restaurant and bar to your rescue! Enjoy well prepared and exotic delicacies from Brazil in the restaurant and quench your thirst with local and international cocktails. Or, how about enjoying your meal and drinks on the terrace while the breeze soothes your nerves?
So, next time when you think of a relaxing holiday, think of visiting Balneário Camboriú in Brazil and staying in this luxury 4 star Plaza Camboriu Hotel. The city itself is very conveniently located just 80 KM from Florianópolis which is the state capital.
10 de Aug de 2011