The Pestana Curitiba Hotel in Curitiba
A closer look at the Pestana Curitiba located in Curitiba.
Inspected by our Hotel Expert team.
Pestana curitiba hotel, from the Pestana Hotels and Resorts chain of hotels ,ranked number two out of seventy eight hotels in brazil, is a sophisticated and modern hotel in it's true sense. Located in the elegant Batel district, the hotel is just 19 kilometers away from the Alphonso Pena airport and is ideal destination for leisure as well as business travelers.
The hotel provides a high level of comfort and is situated at a stone's throw from city's shopping malls, restaurants and shopping centres. It offers it's own private transport services(surcharge included)to and fro from the airport. The hotel boasts of a fine building with twenty one floors and 173 room. No worries if you're getting your private vehicles as commendable parking facilities, valets are available with a little surcharge. All the credit cards are accepted at the reception. all the public access areas are air conditioned or centrally heated, as per the requirements. indoor coffee shops and cafes provide a perfect setting for social chats and relaxation. Multilingual staff, vigilant porter, bellboys, doorman/woman make your stay pleasant and comfortable. Indoor gift shops settles the need to go hither thither to take a souvenir back home Complementary breakfasts and newspapers, television sets in lobby cheer up your mornings setting the pace for bright day ahead. The hotel's own restaurant specializes in Portuguese cuisine so that you can enjoy your meals in the hotel itself. Indoor swimming pool, massage and sauna facilities take the day's heat off your head and leaves you feeling completely relaxed. smoke free property and climate control equipments leaves you in awe of the hotel! Childcare and babysitting facilities are available so that you can enjoy your evenings without worrying about your children's safety and needs. Beauty treatment centers are available for the perfect look you might want for a special evening. if you are worried of piling up that extra kilos during your holidays, think again because the hotel boasts of an exclusive indoors health club and gym. Twenty four hour medical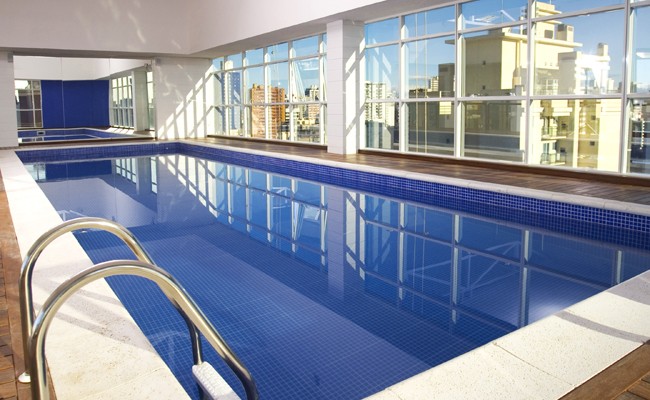 assistances is available at the earliest call. Security guards, emergency facilities leaves you feeling completely safe and compels you to enjoy your stay here. Tour assistances is available so that you can have memorable sight seeing experiences here. Besides that, laundry, dry cleaning facilities are available too. The special services the hotel offers for disabled guests certainly calls for an heartfelt applaud.
Moving over to rooms, every room is fully air conditioned, complete with a picture perfect view. Bathrooms are provided with bathrobes, extra towels, hand held shower, bathtubs and shaving mirrors. Satellite/ cable TV channels make sure you don't miss your favorite TV show from back home. Direct dial phone facility, with local, national, international call facilities, wake up call facility is provided in every room. High speed internet access is available easily. If you face the food problems, refrigerators and microwaves are available so that you can cook and store your own hand made /packed food. to get the perfect look while going out in the city, hair dryers and iron/ironing boards are available in every room.
But for all the animal lovers out there, you've to go forego your penchant for animals while staying here because PETS ARE STRICTLY NOT ALLOWED at pestana Curitiba!
04 de Jul de 2011