Paraty: A Different Side Of Rio
Colonial buildings and a bright emerald beach, do you get the picture of Paraty?
General info about Paraty
Rio is not just about the bustling city and great nightlife. There are some amazing towns that are worth visiting in this region of Brazil. Paraty is a historical coastal town in the state of Rio and was established in 1667 by the Portuguese. There are old churches, islands, waterfalls and the water is emerald green so it attracts many tourists to come over. The town, in the 1800s, was part of the Royal Road but when the inner road was created, Paraty was forgotten and retained the old colonial appeal it has.
Accommodations in Paraty
There are many pousadas outside the historic center but the center itself boasts of 200 of comfortable places to stay. Note: the historic center can be quite noisy at night so if you are up for that, get your reservations in the historic center. If you want to avoid it, try pousadas at the surrounding areas and close to the harbor. There are a large variety: some are dorm styles and some are exclusive, highly luxurious spaces for those who can afford to pay. Some have their own tennis court, sauna, waterfall and some appeal to the colonial vibe.
For economy class, go to Pousada do Principe. For superior and deluxe options, try Pousada do Sandi. For luxurious seekers, Picinguaba is a great luxury retreat.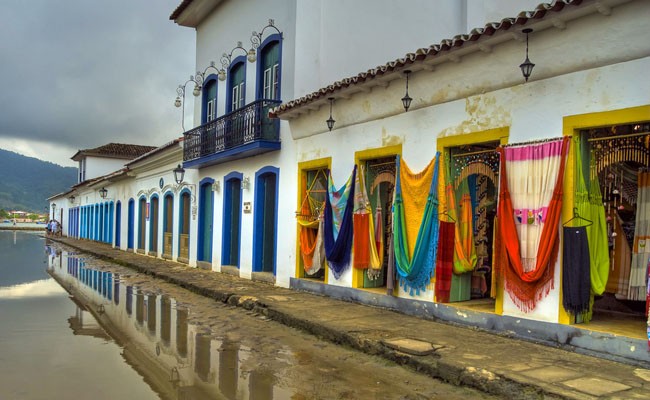 Activities in Paraty
There are many things to do in Paraty. First, visit the historic center where the charm of Paraty lives on. You should also check out some natural sights like the waterfalls and the beaches. If you are into adventure do some trekking, kayaking and snorkeling. You can also dance at the nightclubs and enjoy the night life in Paraty. There are some great restaurants you can visit here and also some great locations to relax and have fun.
Bring your underwater camera and take snapshots of Paraty above and below water. Explore its amazing beauty and cultural life!
Learn more about Paraty: List of hotels, packages, tours and much more!
21 de Sep de 2013