SaoPauloBookers.com
Sao Paulo. What do Do and Where to Stay in the Big City

The largest city in Brazil, Sao Paulo or Sampa as it is fondly called is one of the more sophisticated and elegant cities in Brazil. A cornucopia of ethnic gourmet restaurants as well as amazing shopping and four and five star hotels, this city offers the visitor an exciting and fun loving cultural experience.
Culture of Sao Paulo
What makes Sao Paulo so unique amongst the cities of Brazil is its cultural diversity. It has one of the largest Japanese populations in the world as well as numerous Chinese and Koreans living in a china town known as Bairro Oriental. There is also a large Italian population as well as Portuguese. Jewish, Muslim and Christian communities are also abundant here. The people also seem to rejoice in their difference creating a party like atmosphere day and night.
Dining in the City
Sao Paulo is known around the world for its first class dining. Compared with dining prices in other countries Sao Paolo has some delicious cheap eats. Try one of the favorite local dishes such as Mandioca or cassava root deep-fried or seasoned with butter. Pasteizinhos are deep fried pastries and Bolinhos de carne-seca is fried meat rolls. Pizza is as prized here as in New York and the Lebanese sandwich with roast beef and cheese is as sacred to Paulistanos as pastrami on rye is to a Brooklyn native.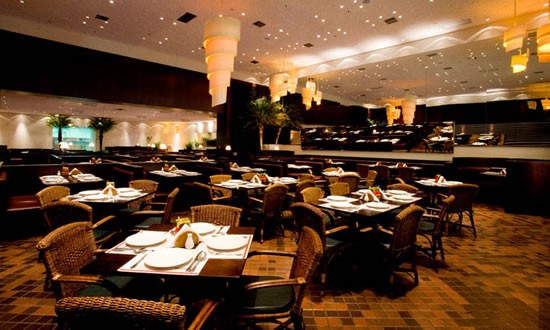 Sao Paulo Nightlife
Begin each night with a chopp, also known as a draught beer, a shot of cachaca or a caipirinha. Waiters in the local bar will keep them coming until you say stop. The best places to do some serious bar hopping are the Vila Madalena area and Itaim. There are several nightclubs scattered throughout the city. Music ranges from traditional samba to hard rock. Many clubs have expensive cover fees and some entrance fees can reach $145.00 in wealthier areas of the city.
Staying in Sao Paulo
The hotels in the city focus on business travelers. Most accommodations are located in the business districts near Avenida Paulista and Jardin. These business hotels characteristically have a high level of service as well as luxurious surroundings and high tech rooms. Many of the more exclusive chain hotels are located here including Sofitel hotels, Inter-Continental hotels and Renaissance Hotels. Visitors on a budget also have plenty of options as well. We will be sure to arrange accommodations that are perfect for your pocketbook.
Ethnic Sectors of the City
Sao Paulo Bookers will be happy to arrange a private guided tour of the city. Or if you wish to strike out on your own visit the Bixiga district in the center of the city. With a large Italian population there are some amazing restaurants, exciting nightclubs and an antique fair on the weekends. Liberdade is the Japanese section of the city with lovely churches and temples as well as delicious Asian restaurants.
Sao Paulo Attractions
Visit Ibirapuera Park and enjoy the fountains and bicycle paths. Stop in at the Museu de Arte Moderne or visit the Planetarium. Serra da Cantareira is natural stone caves where fresh water is stored. Walk along the trails here to Pedra Grande that has a wonderful view of the city. The zoo sits on 204 acres of land and holds over 2,500 animals representing 366 species. The municipal theater is quite an architectural wonder and the auditorium with its gold, velvet and marble is extravagant. Sao Paulo is a culturally diverse city that enjoys all of its ethnicity and celebrates it on a daily basis. The joy of the people is truly infectious and spending a few days here taking in the atmosphere is truly worth the trip.