BuziosBookers.com
Buzios is the Beach Paradise Two Hours North of Rio de Janeiro

Northeast of Rio sits a quaint little fishing village called Buzios. Quiet that is until summer vacation or a holiday when thousands of Brazilians and visitors from around this world descend on this town to enjoy the 24 beaches, delicious sea food and rocking night life.
Finding Buzios
Made famous by the famous actress Brigitte Bardot in the 1960s, Buzios can be accessed via airport from Rio. These flights usually occur on Friday and Sunday and we will be happy to book passage for you and your party. You can also opt to drive or take a bus. Simply let us know how you would like to get to Buzios and we will arrange the travel accommodations for you.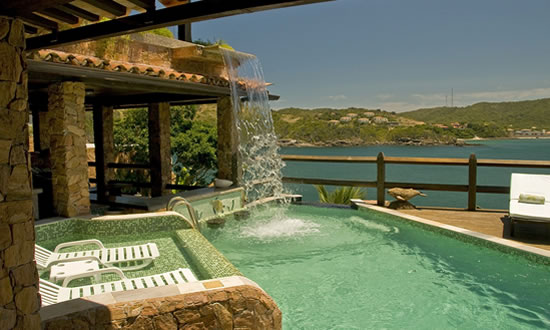 Eco-Tours
Buzios has some of the most beautiful natural scenery surrounding the beaches. We can arrange a guide for you to tour the many waterfalls in Waterfalls of Sana Park. Or we can reserve a time for you and your group to meet with one of the expert biologists and experience the wildlife at Taua Reserve. For a more active trek we will arrange mountain bikes and a guide to take you on a tour of the Emerencias Mountains.
Water Water Everywhere
Most visitors come to Buzios to not only enjoy the beaches but to participate in the many water sports. Long board and short board surfing, wind surfing and kite surfing are all available on the east side beaches where the winds a stronger and the waves bigger. Snorkeling, diving, boogie boarding and deep-sea fishing are also available for all visitors. Kayaking, sailing and catamaran tours are also available. Let us know you water sport passion and we will assist you to rent equipment and arrange instruction with one of the local experts.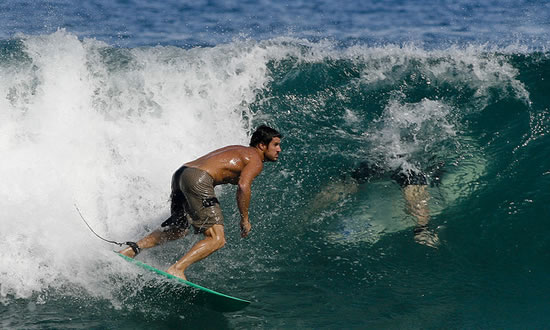 Other Activities
Buzios also has a golf course where we can arrange for you to play 18 holes. Or you can spend the day taking a tour of the city and surrounding beaches. There is also the favorite past time of shopping. The best place to shop is along the lovely cobblestone street of Rua das Pedras. Expect to find lovely women's and men's beach ware as well as designer fashions. There are stores selling artifacts from around the world as well as stores selling works from local craftsmen. Galleries for local artists are strewn along the streets. Many open late afternoon and stay open well into the evening. Going from gallery to gallery makes for a lovely after dinner stroll.
Night Life in Buzios
Buzios is known for its seafood. We will be happy to recommend some of the better seafood restaurants for you to try. Keep in mind most of the seafood is incorporated into ethnic dishes. So expect to see French, Asian and Italian restaurants all preparing local seafood with their own native flair. There are several nightclubs in the area to enjoy dancing. Bars and lounges are also plentiful to enjoy an evening drink while watching the sun set. There is also a cigar bar, wine bar and whiskey bar.
Beaches in Buzios
The primary reason visitors flock to Buzios is for the beaches. With 24 beaches there is sure to be something for everyone. Several beaches are made just for more extreme water sports. There are other beaches with warm, calm, shallow waters for families. For romance, Buzios has small, out of the way beaches for couples to enjoy. There is also one nude beach.
Accommodations in Buzios
Buzios has all styles of places to stay. From large opulent resorts to small motels there is something for every budget. The bed and breakfast inns both in the city and on the surrounding beaches are not only quite affordable by very lovely and very popular. We will do our best to find an accommodation to suit your style.