No words can describe the Buzios Colonna Park hotel
A closer look at the Colonna Park located in Buzios.
Inspected by our Hotel Expert team.
Colonna Park hotel is a beautiful sea view hotel of Hoteis Othon, SA located in Joao Fernandes beach, Buzios. The hotel is prettily surrounded by over twenty beaches. Rio de Janeiro is only two hours from this picturesque hotel. The Italian architecture is characteristic of this hotel that is daintily sitting atop a hill with breathtaking views of beaches.
At the Colonna Park hotel in Buzios, rooms are standard rooms and deluxe rooms. You can make your booking and check availability online with us. Each room is maintained by well trained staffs that offer their services with a smile and make you feel at home away from home. All modern amenities required to make you comfortable are available like air conditioning, cable/satellite television, high speed internet, private bathrooms, hot tubs, refrigerator and a housekeeping staff that will never give you reason to complain. Parking is available at the Colonna hotel if you are driving or if you need to rent a car you can do so at the hotel when you reach Buzios.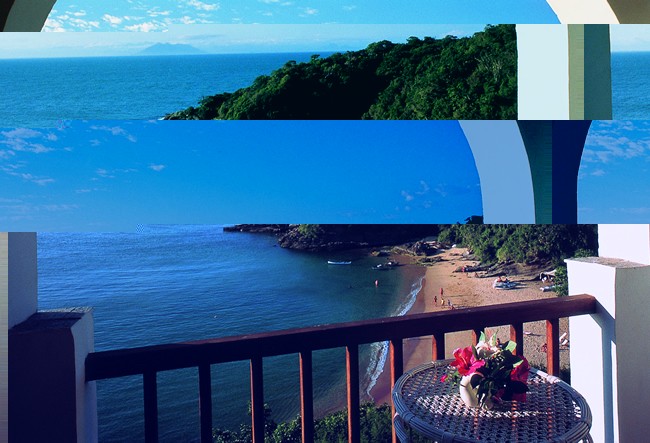 You get convenient wake up call, free breakfast and room service with a smile. The safety deposit box ensures you don't have to worry about carrying your cash and valuables. There is an opportunity to pamper yourself in the sauna or take a dip in the swimming pool; you may take a sip of your favourite drink in the bar cum pub.
For those who come with business in mind, Colonna Park offers well equipped meeting rooms and conference rooms and Business centre. One may have fun in the games room or throw a party in the banquet hall. Poolside bar will let you relax and intoxicate you with the sheer pleasure of the whole setup. A number of exclusive restaurants offer a wide range of sea food. Avenues to enjoy nightlife are also available. One may have fun hiking and in water sports in this charming town.
Public transportation can be arranged to reach short distances as well as airports. The Joao Fernandes and Joao Fernandinho beaches are easily accessible from the Colonna Park hotel. Families, singles, kids, elders alike enjoy the stay at the exquisite hotel. The convenient location, amiable staff, fun filled activities and the beautiful town gives the visitors more than one reason to visit colonna Park hotel again and again at Estrada de Joao Fernandes 28950‐000, Buzios, Brazil to have a fun filled stay in Brazil.
Don't miss out on the opportunity at staying at this amazing hotel, let us help you with your booking!
Learn more about Buzios: List of hotels, packages, tours and much more!
22 de Aug de 2011