Mocidade Samba School – Glorious History On Its Side
Their rhythmic percussion beats were irresistible during the 70s, making crowds erupt in frenzy- The Mocidade Samba School; Rio's pride and joy!
Before reading about Mocidade 2011, let's take a look at the past of this glorious Samba School. Mocidade Samba School has a history of more than 50 years, making it one of the oldest Rio Samba schools and has its headquarters in the West Zone at Padre Miguel. It shot into the limelight during the 60s and 70s because of the amazing Bateria (percussion) section that was belted out by Mestre Andre. It has grown to become of the most beloved Rio de Janeiro schools, having amassed many championship titles.
Mocidade Samba Schoolsuccess can be attributed to its luxurious floats, industry type methodology and extraordinary organization. It is synonymous with the carnival producers of great repute. Some of the most famous artists like Arlindo Rodrigues, Renato Lage and Fernando Pinto who made some of the most inventive and creative parades have worked for itssuccess.
In 1976, they captured their first championship title and in 1985 Fernando Pinto helped them to get another title with the theme of 'Ziriguidum'. Mocidade Samba School continued its run of glory and captured titles in 1990 (the theme being their own story), 1991 (water being the theme this time), 1996(with the theme of creation of humanity) and 2001.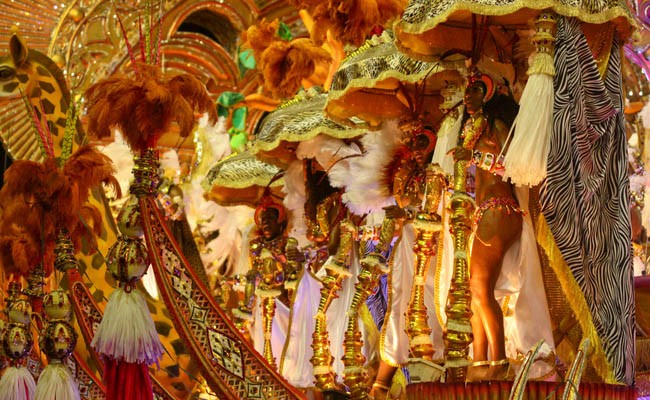 This samba school is famous for its futuristic creations, with the images of the flying paraders still fresh in people's memory. However, it relies more on its past history and laurels and usually succeeds to clinch a spot among the top 6 teams. For Mocidade 2011, the theme is scheduled to be Parábola dos Divinos Semeadores which will highlight the origin of agriculture and relate cultural evolution with fruits of the earth.
You have the chance to watch the Mocidade 2011 rehearsals in the Sambodromo which take place on weekends or catch the action live on samba nights in their premises.
Do you think Mocidade 2011 can break in to the top six of Rio Carnival 2011?
07 de Oct de 2010