Luxury To Budget, There Is A Florianopolis Hotel For Everyone
Come stay at one of the hotels in Florianopolis and enjoy an activity filled day and party filled night.
Florianopolis is slowly becoming the surfing and partying capital of Brazil. Tourist numbers are growing yearly as word spreads about the many delights of this city. Accommodation places sprung up almost overnight and there are many different places to stay that will suit anyone's budget.
The hotels in Florianopolis range from the very cheap to the very expensive. With over 40 beaches in the area, most of the accommodation is within walking distance of the coast and many are right on the beach. Some beaches are suited to surfing due to strong tides and tall waves. Other beaches are perfect for families with their serene surf and gentle tides. Therefore, it is prudent to check and make sure your accommodation is near the beach best suited to your needs.
There is one 5 star Florianopolis hotel resort that has the best there is to offer. The Costao do Santinho Resort has may high end amenities including a Spa with Thalasso therapy, vichy water and scotch showers and many other hydrotherapy options. Guests can also enjoy a massage or other body treatments. In addition meditation, pilates and yoga classes are available. Facilities include an aquatic complex, beer garden, nightclub and an area for teens and youngsters. While on property, travelers can snorkel, hike or bike as well as enjoy surfing, boating, jet skis or horseback riding. You can also try the Ponta dos Ganchos or Sofitel Florianópolis.
There are many upscale 4 star hotels in Florianopolis that also offer excellent amenities and exceptional service. Tourists can select from smaller boutique hotels, large resorts or standard accommodation in this category. Expect to find in each Florianopolis hotel, Internet accessibility, usually free of charge. Most of this accommodation is also close to, if not on the water and has many water activities. Guests can enjoy boating, canoeing, fishing, sail boarding, sailing, snorkeling, and surfing. Jet skis and motor boats may be available for rent. On land, biking, hiking, horse back riding and cultural tours are offered. Porto Ingleses, Majestic Palace, Blue Tree Towers and Jurere Beach are excellent four star options.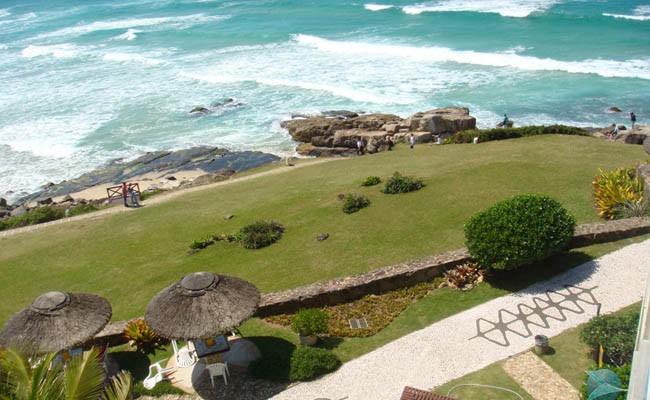 The budget hotels in Florianopolis, while not as luxurious or upscale as the 4 and 5 star accommodation still have a lot to offer the budget minded traveler. Of course free wireless Internet is available at each Florianopolis hotel. Like the more exclusive hotels, this cheap accommodation also offers many beach-related activities like surfing, snorkeling, scuba diving, sailing, kayaking and sail boarding.
Why don't you grab your bathing suit and sun tan lotion and come to Florianopolis for a much needed holiday?
Learn more about Florianopolis!
List of hotels in Florianopolis packages, tours and much more!
15 de Nov de 2010