The Kiaroa Eco Luxury Resort Hotel in Marau
A closer look at the Kiaroa Eco Luxury Resort located in Marau.
Inspected by our Hotel Expert team.
Kiaroa resort is an excellent place to put up in Bahia, Brazil. It is located in the peninsula tip of Southern Bahia.
The resort has nearly 28 rooms including 14 bungalows. It provides the rooms on the affordable rates that include breakfast meals, dinner meals and non‐alcoholic drinks.
Facilities are abundant here. Starting from the rooms where you get LCD television to the private airstrip outside. The mini bar to let you sip your favorite drink. The beddings are most comfortable. Then there is the spa to pamper you. The gym for fitness freaks to work out. You can roam around in the gardens too. Also one can have a game of tennis or volleyball. The swimming pool is an eye catcher for sure. It has crystal clear water and a swim up bar. This is surely unique.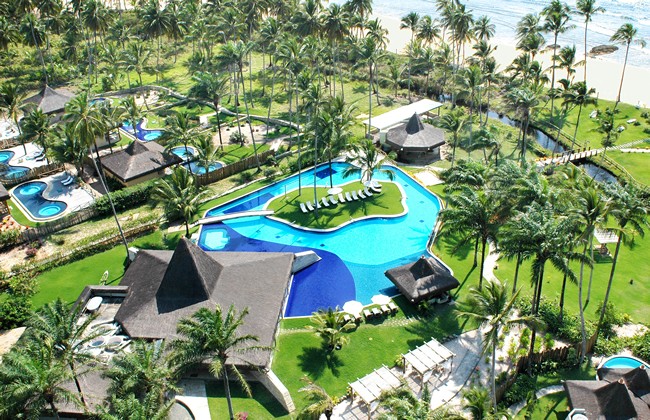 The resort brings you close to nature and is itself eco friendly. The palm trees, eucalyptus trees, the thatched roofs, its location in the ecological sanctuary, use of solar energy; all make it highly commendable for its efforts towards eco friendliness.
The Hotel restaurant has many special features. The restaurant is glass paneled and overlooks the pool. The beach is prettily there in the backdrop. Bahian as well as international dishes are served here. Seafood is absolutely lip smacking. You can also get to taste Tetiaroa during lunch times. The restaurant also offers Top table, one of the glass tables close to the pool where to dine and admire the sea view. One can get snacks in midnight too. A number of options for getting your drink are also there. The swim up bar the Ibiscus, the wooden beach bar Tetiora is there too.
Babysitting can be organized. The hotel's Armonia spa is a temple to relaxation, offering both a wet and dry sauna, an assortment of muscle‐easing massages are offered.
The bungalows have a private setting offering more privacy, peace and tranquility. They have grand four poster beds. There is an ambient atmosphere and blends with the spaciousness. The Malindi bungalows bring you really close to the forests. Visitors prefer them over the others. They have high ceilings and really contemporary décor. The verandas have hammocks where you can simply lie down and relax. You even get Jacuzzi baths. The Bali luxury bungalows have two bathrooms and private pools in the terrace.
Kiaoroa resort is the right place to be in Bahia.
Learn more about Itacare: List of hotels, packages, tours and much more!
08 de Aug de 2011