The Itacare Eco Resort Hotel In Itacare
A closer look at the Itacare Eco Resort located in Itacare.
Inspected by our Hotel Expert team.
The Itacare eco resort is located on the Brazilian north east coast, about 65 kilometers north of Ilheus and about 400 kilometers south of Salvador, Bahia. It is in the amazing ecological reserve with preserved Atlantic rainforests, waterfalls and absolute natural beauty all spread over 200 hectares.
The hotel has 25 spacious luxury apartments, each with a veranda with a hammock to let you lie down, relax and enjoy the beauty all at the same time. The rooms are well furnished with luxurious beds, comfortable air conditioning, cable television, DVD player and telephone. You even have a mini bar for your enjoyment. Every small need is taken care of including even a hair dryer.
Adding to the charm and ambience of the hotel, there are exclusive works of Itacare artists. Apart from ambience, luxury comes in the form of the various services. You get 24 hour room service by the well trained staff always ready to serve you with a smile. Your laundry is also taken care of. Also to ensure safety of your car, parking facility is provided. You have a gift shop to select the best gifts for your beloved, trails for horseback riding, birding walking path. On top of it all, you have two absolutely lovely beaches which are private. They feature in the top ten beaches in Brazil.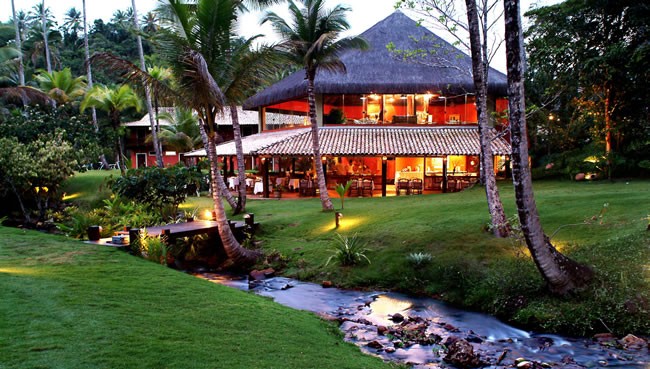 One can go biking or Capoeira. For pampering oneself, the dry sauna and swimming pool is at your disposal. Sports lovers have all they can wish for. They can have a game of volleyball or horse riding. Or go off trekking or wind surfing. For peaceful time one also has the option of fishing. The resort can also organize trekking, horse riding, scuba diving, rafting, surfing and anything you wish under the sun. Itacare has some of the finest and spectacular beaches. Some are small with lagoons and others are longer. Also the Atlantic rainforest and the palm trees surrounding the forests are a treat for your eyes. You almost feel like being in paradise. The perfect waves almost seem artistic. It is rightly called the surfing capital of Brazil. The main beach here is the Sao Jose beach.
Families, kids, adults, singles alike have a memorable stay here. Availability of rooms can be conveniently checked using the internet and bookings be done using the same. Itacare eco resort is surely the right place to be to enjoy the charming town of Itacare.
Learn more about Itacare: List of hotels, packages, tours and much more!
12 de Jun de 2011