The Insolito Boutique Hotel Hotel in Buzios
A closer look at the Insolito Boutique Hotel located in Buzios.
Inspected by our Hotel Expert team.
Insolito Boutique hotel is one of the finest hotels in Buzios, Brazil. known for the Mediterranean style rooms with grand views, it is the ideal place to put up when in Buzios.
Rooms range from 'superior', 'luxurious', 'suite' and 'master suite'. Each lives up to its expectations or rather exceeds them pretty well. Each room has a wooden deck to let you sit down and plan out activities while overlooking the ocean. The suite has an exquisite Jacuzzi as well to make you feel like a king. An outdoor Jacuzzi, pool and sauna are available for all guests. Nobody is left out when it comes to making you feel comfortable and pampered. Each room has all the contemporary amenities including air conditioning, cable, satellite television, hair dryer, safe deposit box and in short anything and everything you need to make yourself comfortable. The poolside bar is out there for you to grab a snack or a chilled drink while bathing in the glory of the sun. The restaurant is perched on the rooftop and it's the food that that takes you the seventh heaven and not the height. Cuisines from all over the world and the Brazilian specialities will make your mouth water for sure. The charming environment created by pretty flowers and modernism blended will make you enraptured.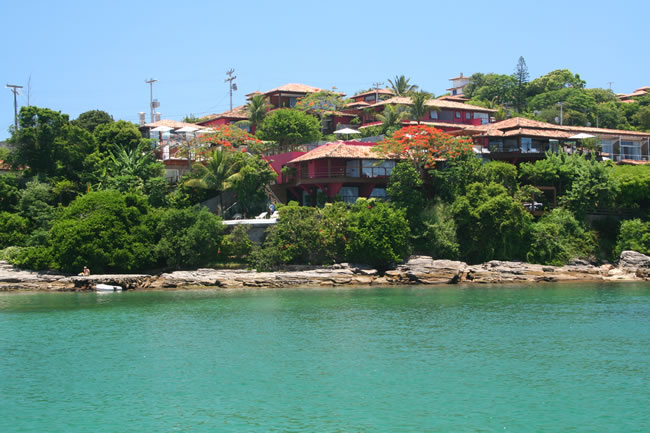 If you do not know what to do around the town, you will have more than enough to do in the hotel itself. Pamper yourself in the sauna or tone your body in the fitness centre. You may have peaceful time fishing or a quiet relaxing massage. You may explore the solarium if you so feel like. If nothing, take a cycle and look around the pretty place. Or if you wish to get connected, wireless internet facility will let you do what you want.
Private parking is free of charges to take care of your marvels on wheels. For your convenience, credit cards are accepted including American Express, VISA, Master card, Euro.
You will find all the comforts and no worries at this horse shoe shaped island. At Insolito Boutique it is seen to that you have nothing to complain about. The well trained, highly efficient staff is always ready to serve you with a smile and always ready to cater to your needs. Families, singles, kids, elders alike enjoy their stay assuredly. There is a lot to explore on this island and Insolito is the right place to do it from.
Learn more about Buzios: List of hotels, packages, tours and much more!
10 de Jun de 2011