Imperatriz Leopoldinense – 2011 Rio Carnival Samba School Series
Learn the Samba and Synopsis of Imperatriz Leopoldinense Samba School for 2011 Rio Carnival
Synopsis for 2011
Theme: "A Imperatriz adeverte: Sambar faz bem a saude"  (Imperatriz warns: Dancing samba is good for your health)
Imperatriz will go through the history of medicine in  2011's parade. From ancient healing rituals to big names in Brazil health science like Oswaldo Cruz, Carlos Chagas and the plastic surgeon Ivo Pitanguy. Imperatriz samba school will cover in it's parades performance honoring  what medicine has done for men kind. So, samba dancers forget the pain, dress up in your costume and come party with Imperatriz Leopoldinense School! Dancing samba is good for your health!
More About the Imperatriz Leopoldinense
Imperatriz Samba School The Imperatriz Leopoldinense Samba School has been participating in the Special Group during Rio Carnival since 1990. Their colors are green, gold  and white with the crown as their symbol. This Samba school is a strong competitor and regular favorite in the Special  group, having won many championships in t he last decade, including three in a row from 1999 to 2001. Known by its perfectionism, Imperatriz Leopoldinense is always expected the finish among the top 5, making almost always a presence at the Winners Parade, which takes place on the Saturday following the Rio Carnival.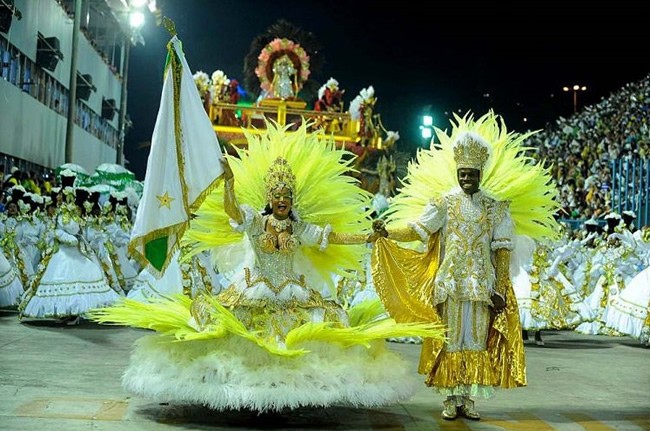 Theme for 2011: A Imperatriz Adverte: Sambar Faz Bem à Saúde
Parading Date and Time: 3/6/2011 10:05:00 PM
Colors: Green, Golden and White
Rainha (Queen): Luiza Brunet
President: LUIZ PACHECO DRUMOND
Carnival Art Director: Max Lopes
Book your hotel to Rio Carnival now!!!
Download the Song for 2011, Learn More about Imperatriz Leopoldinense
31 de Dec de 2010