Iguazu Waterfalls: Legends And Facts
Have you heard about Iguazu's legends and myths? Which ones are the facts?
There was a legend about a god of the Caigangue Indians. The god was called M'Boy and was shaped like a serpent. There was a tribal chieftain at that time that had a beautiful daughter named Naipi. The legend goes that the River of Iguazu stops whenever Naipi tries to look at the river to use it as a mirror. The chieftain had an agreement with M'Boy that the serpent god will have Naipi. However, Naipi fell in love with a warrior named Taroba and eloped. M'Boy, angered by the betrayal, drives his serpent body on the ground across the mighty river, causing the earth to displace, forming a massive waterfall formation that engulfed the eloping lovers to eternity. The sad story of the Iguazu waterfalls is the irony to its mighty appeal and dramatic power.
Iguazu waterfalls is regarded as one of the 7 natural wonders of the world with more than 275 waterfalls stretching 1.67 miles in sinuous shapes, the Iguazu waterfalls beats Niagara Falls in height and competes with Victoria Falls in length. The Iguazu waterfalls are tourist attractions on both sides of the river banks from Argentina to Brazil. This is a massive water body that also powers the Itaipu Dam that provides energy to Paraguay and Brazil.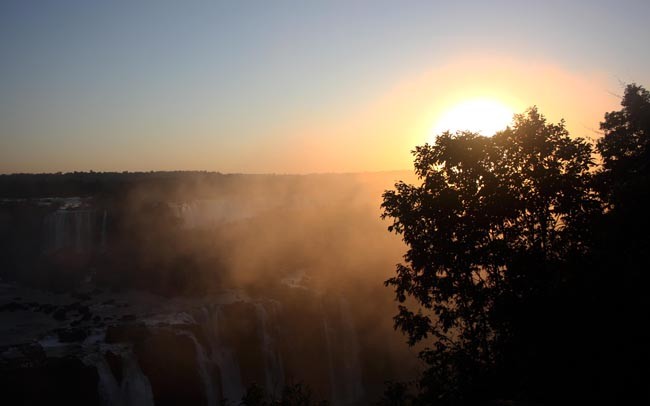 Iguazu waterfalls have the majestic Devil's Throat that is the largest cataract of the waterfall system. Tourists go from near and far just to experience the majestic beauty of the falls. This is one of the most amazing sites in the world and if you are a nature lover and you feel catharsis with majestic sites, then the Iguazu waterfalls is the best place to go to for your next vacation. Discover the majesty of this immense waterfall and share your explorations in pictures and videos. Your friends will certainly want to experience the thrill of being there in front of the Iguazu waterfalls.
Learn more about Iguazu Falls!
List of hotels in Iguazu Falls packages, tours and much more!
15 de Nov de 2010