Iguazu Falls: An adventure
Nothing can beat the sight of this great work of Mother Nature at Iguazu
General info about Iguazu
Follow the river of Iguazu, and you will see the throat of the devil. After that, you will see paradise. It is like a metaphor to the challenges that one can encounter on an adventure story but a journey to Iguazu Falls is a real adventure. A massive waterfall series of small and big waterfalls curtaining a massive, sinuous landform with the largest cataract, the Devil's Throat exudes a metaphorical appeal. This is a great tourist spot and metaphorical or realistic, Iguazu Falls is undeniably breathtaking. You will surely have a lot of time discovering and experiencing the vibrant beauty of this magnificent location.
Accommodations in Iguazu
There are many hotels that you can choose at Foz do Iguazu, the city where the falls can be seen. There are some great resort hotels in the city and there are also some nice budget hotels that you can take advantage of. You will certainly love to check out the city since it is teeming with nice restaurants and souvenir shops. If you have the money for it, check out Hotel das Cataratas. This is an expensive hotel that is the only hotel in the area inside the Iguazu National park that is just walking distance to the waterfalls. Other hotels you should take advantage of include Carima, Continental Inn, Mabu Thermas and Iguazu grand Hotel.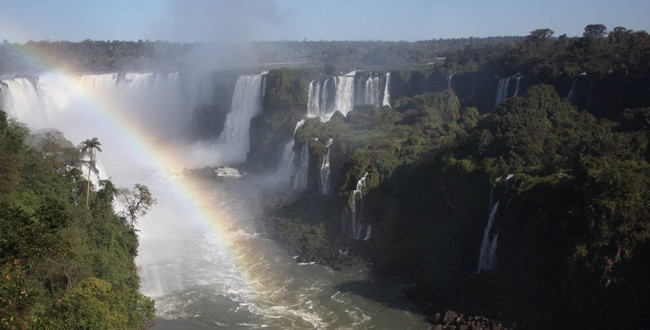 Activities in Iguazu
You should first try the helicopter ride to get an aerial view of the falls. It is a humbling sight to see. After seeing the falls in its entirety, go for a boat ride across the river canyon and go near the edge of the falls. You will receive your blessing from that area. You should also take some time to visit the offerings of the national park as it has some great locations to go trekking and hiking. The trips are done in groups so stay with your group and do not litter in the forest.
Learn more about Iguazu Falls: List of hotels, packages, tours and much more!
24 de Dec de 2010