The Grand Hotel Rayon Hotel in Curitiba
A closer look at the Grand Hotel Rayon located in Curitiba.
Inspected by our Hotel Expert team.
The Grand Rayon is a beautiful 5 star hotel present at the epicenter of Curitiba, Parana, Brazil. This marvel provides exceptional value along with courteous service and comfortable accommodation. One gets all the comforts as well as options to have fun exploring the town. The hotel is close to the Opera de Arame and many fine places. It is convenient to explore the best of places from here.
The hotel offers in all 129 luxuriously furnished accommodations. Each room has all the contemporary amenities to make you comfortable. They are well air conditioned for climate control, soft luxurious beds and well equipped bathrooms to count a few. From the moment you step in, you will know you have chosen the right place to be in Parana, Brazil. The staff is equally commendable. They are always ready to cater to your needs with a smile. They ensure that you have nothing to complain about.
One gets excellent gastronomy here. There are two restaurants. Each is unique. The Galla restaurant has a blend of French and Italian styles. The Garbo restaurant offers you international buffet. On Saturdays, one can taste typical Brazilian dishes too. Surely the great food more than just satisfies your taste buds. There is a lot to do. Fitness freaks can work out in the gym. The swimming pool invites you to take a dip. The sauna will let you pamper yourself. The beauty salon flatters you for sure. One can rejuvenate at the massage too.
Recreational facilities like the gymnasium, sauna, massage and Jacuzzi can be utilized during leisure to tone up your body private parking (indoor), lift, lobby, Concierge, laundry / cleaning, 24 hour room service are some of the basic facilities offered by the hotel. The hotel provides a warm and welcoming service of international standard and also boasts a well trained and multilingual staff which is always ready at your service. Almost all major credit cards including Amex, DinersClub, MasterCard and VISA are accepted. Arrangements for sight‐seeing and further travel packages including tourist guides can be made from the hotel itself. Beautiful centralized location, well equipped, reasonable prices and a comfortable stay for honeymoon couples as well the families with kids is assured.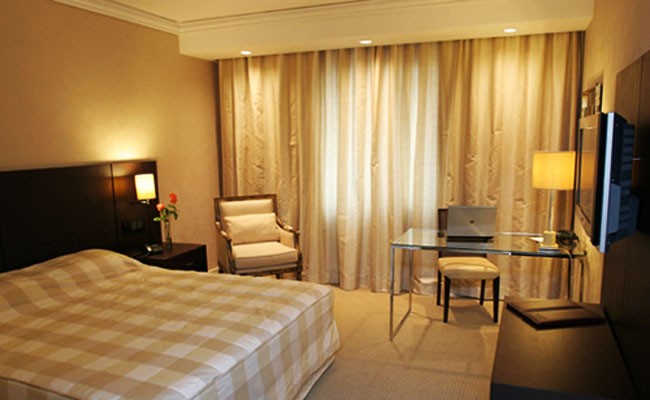 Availability of rooms can be checked using the internet and bookings be done using the same. The charming town is a must explore and the Grand Rayon is the right place to do it from.
23 de Nov de 2010