The Fortaleza Hotel Blue Tree Premium Is The Right One For You.
A closer look at the Blue Tree Premium located in Fortaleza.
Inspected by our Hotel Expert team.
Blue Tree Premium hotel in Fortaleza, Brazil stands tall in the busy part of the city providing an oasis to its guests. The location of Blue Tree Premium hotel has been carefully chosen, with the beach within 5 minutes on foot and the airport 'Pinto Martins' within 20 minutes by cab.
The Blue Tree Premium hotel offers all the amenities you will need, all 248 rooms are well equipped with AC, mini bar, hair dryer, television, phone and internet. All this with an excellent sea-view. Beige is used quite often: from floor to bed linen. Red and white are also aligned in the pallet beautifully contrasting or rather complimenting each other. The ornamentation of the rooms is quite simple and practical. The service is quick and extremely efficient. The staff is very congenial and your stay is ensured to be a warm one.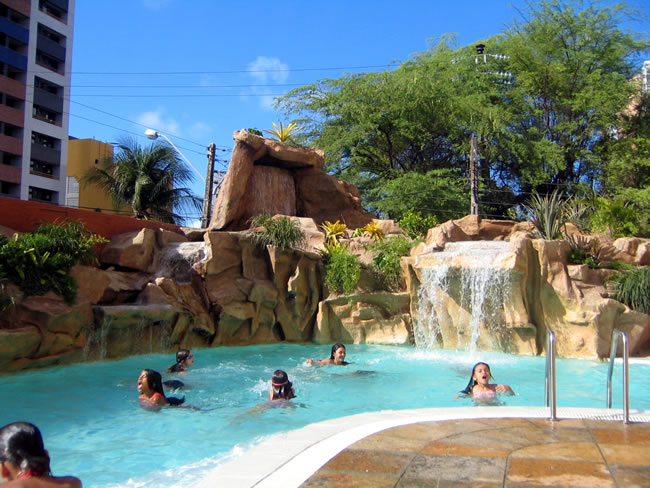 There's a shopping center nearby so the guys may want to keep their partners busy all the time. The hotel is located in the busy part of the city so tourists can see night life along with the beauty of nature at exotic beaches. The hotel is spotless and staff are really up-to-date with all the necessary adjustments. The peculiar thing about the hotel is that it has cactus plants, giving a feel of an actual oasis. All the rooms have a similar earthly décor.
The restaurant called 'Mandacaru' has about 100 setas for an inside ambience and 150 for outside. The cuisine served is quite famous in the whole city and the restaurant stays fully booked almost all the time. The restaurant is quite good with square tables and a smart setting. All very neat. The facilities provided by the hotel include fitness center, sauna dries and solarium overlooking the sea. The hotel also has an infinite swimming pool with eye-catching architecture. There is a cliff-like structure at one end of the pool giving it a feel like the' king kong' movie. Kids will have a blast here as the hotel Blue Tree Premium also has a fully equipped playground. The booking can be done online with us.
Learn more about Fortaleza: List of hotels, packages, tours and much more!
03 de Oct de 2013