The Ferradura Private Hotel in Buzios
A closer look at the Ferradura Private located in Buzios.
Inspected by our Hotel Expert team.
Ferradura Private is an exquisite hotel that offers high quality and complete comfort during your stay. Being located in the calmness of the Buzios, it is also conveniently close to the main attractions. It is ideal for those looking for peace and tranquillity.
With a massive living area of about 1000 square metre, this 5 bed room abode is within 2 minutes walk from the beach. There are two master suites, each with a Jacuzzi; three good sized bedrooms. All ensuite. A large kitchen and a dining room with seating capacity 10 is where you will sit down for lovely meals. Then there are the cinema room and the sitting room for making you comfortable when you wish to be entertained or sit and relax. Games room in the downstairs area will be all you need for the kid in you. The villa can accommodate comfortably ten adults with its 5 double bed rooms; including 2 oversized master suites with double beds, walk in closets, Jacuzzi, and 3 twin or double bedrooms. The swimming pool has the panoramic view of the Ferradura beach. The property is fully air conditioned.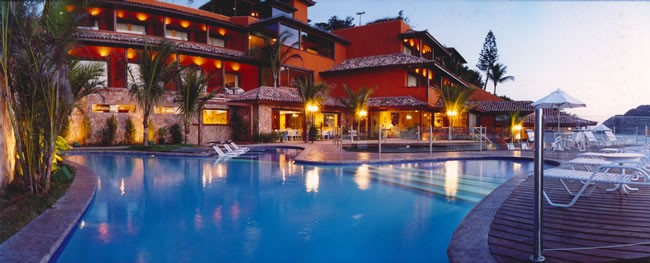 The staff includes maid service, housekeeper for cooking meals and looking after pool, gardener, guests. The kitchen has all the important assortments. Starting from cooker to oven and microwave, you have everything. The living room has room for 12 people and 10 in the dining space. In all there are 6 bathrooms for your convenience. Each bedroom has 2 double beds or 3 twin beds, 5 en suite. Bed linen and towels are provided.
For entertainment, television, home cinema DVD, satellite/ cable television, computer, internet, CD; everything is taken care of. Also you have the games room and poker and pool table. To enjoy the sunshine, one can search for a cozy corner in the beach or take a dip in the swimming pool, or stroll in the garden. Or you can eat to your heart's content in the barbeque. One need not worry about car parking as the garage is all for them. There is beautiful external lighting. What to say of the grand panoramic view.
Pet lovers need not to worry, arrangements can be made by prior discussion. Also this is a completely non smoking property. There is so much to do all day long that 24 hours will seem short. You can take a stroll on the beach or go swimming; sail off or enjoy water skiing; hire a boat and jump in for a ride or go wind surfing. Its all there for you to do at Ferradura Private, Brazil.
Learn more about Buzios: List of hotels, packages, tours and much more!
05 de Jan de 2011