Extreme Sports and Fun Activities Await Travelers to Arraial Ajuda Beaches
Spend an exciting day hand gliding over the cliffs that look out over the Arraial Ajuda beaches or take a moonlight bike ride through the Atlantic forest.
While Arraial Ajuda is known for its quaint colonial style buildings and 16th century church, it is also a city bustling with excitement. With the rainforest framing Arraial Ajuda from the back and the turquoise blue waters surrounding its eastern side there are plenty of activities to enjoy all over the region.
Arraial Ajuda Tours usually include visits to the local native villages that surround the area. There are approximately 12 different indigenous tribes that live here. Most of the natives make their living as fisherman or artists and crafts men. Villages Itaporanga, Old Bar, and Imbiriba are all open and welcome to visits from the public.
Arraial Ajuda beaches are also filled with activity. On Trancoso beach visitors can canoe or kayak along the coast or up the river. These Arraial Ajuda tours offer either a 5-km paddle or a 12-km option. Tourists can also go fishing, diving or windsurfing on Brill beach.
Arraial Ajuda tours are also available in the rainforest. Mountain biking routes from 48 to 112 kms are possible during the day or the full moon. The bikes come with halogen headlights so it is easy to see in the dark. There are also combination kayaking and biking tours available. Extreme sports enthusiasts can hike to the top of Pitanga cliffs and once there, hand glide back down to the bottom.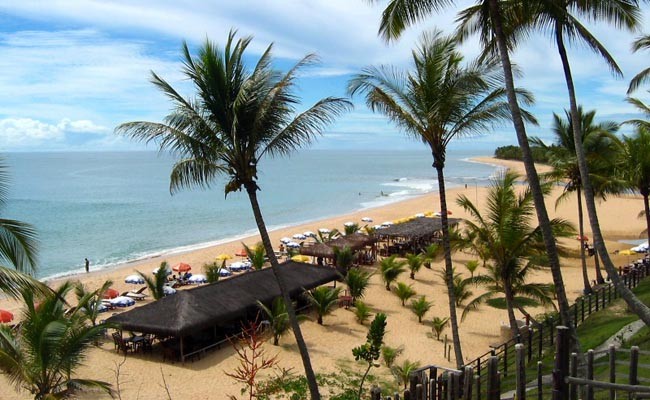 Arraial Ajuda beaches are quite lovely and perfect for the sun worshipper. Mucuge beach is closest to town and is usually the most crowded. It is especially popular with families and tourists as the waves are not overpowering. Nearby is Paradise Water Park with flume rides and an artificial wave tank. Espelho beach is known for its crystal clear waters. There are also hiking trails where travelers can see a wide variety of bird species as well as buffalo herds. Another one of Arraial Ajuda beaches is Taipe Beach. It is surrounded by cliffs and sits at the mouth of the Taipe River. It is especially popular with fishing enthusiasts.
16 de Nov de 2010