Exploring the Amazon with Amazon Cruises and Lodges
Amazon lodges and cruises offer you a once in a lifetime opportunity to live out your ultimate Amazon jungle fantasy.
There are 2 ways to explore the amazing hidden natural treasures of the Amazon and to experience the natural way of life here – by going on Amazon cruises or staying in Amazon lodges. Among Amazon lodges, the Juma Lodge offers good value for money. It is located 100 kilometers(62,13 miles) away from Manaus and is built on stilts facing the calm Juma River. It features 23 comfortable bungalows which have private bathrooms, fans, screened windows and mini bars. The restaurant serves native as well as international cuisine.
The Tiwa Resort is among the 4 star Amazon lodges situated 10 kilometers(6,2 miles) away from Manaus by the shores of the River Negro. The resort is constructed around a natural lake with lush tropical rainforest all around. It features 26 double houses which are built on stilts having a spacious patio, private bathroom and a bedroom cum sitting room. The lodging facilities include a restaurant, swimming pool, water sports center and an amphitheater.
Anavilhanas Jungle Lodge is situated at a privileged spot, located right in front of the largest river archipelago. The 16 suites have split air conditioning, bathrooms with hot and cold water, box beds, fridge and a porch. There is a deck and pool which overlook the river. The Amazon Clipper Cruise and Amazon Clipper Premium are regional cruise vessels which have cozy private cabins with toilet facilities. In the Amazon Clipper Cruise, there is night time air conditioning, a dining room, library and a sundeck. The Amazon Clipper Premium offers luxurious Amazon cruises with spacious apartments featuring twin beds or queen sized beds, air conditioned rooms, an air conditioned restaurant, room for lectures and meetings, showers with hot tubs and a sun deck for a 360 degree panoramic view. Both of them arrange for boat rides to explore the forests, hiking, fishing, bird watching and visits to local villages.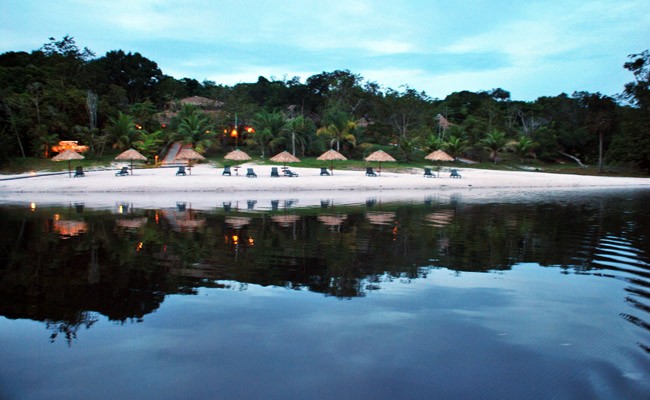 The Iberostar Cruise provides one of the luxury Amazon Cruises with 72 cabins having private bathrooms, private balconies, twin beds, and air conditioning. There are 2 restaurants, 2 pools, and a bar with salon, 4 levels of decks and a conference area. The liner provides entertainment and even dance lessons besides motorboat rides to explore local lakes, igarapes and igapos.
How do you want to discover the Amazon – by going on cruises or staying in Amazon lodges?
28 de Nov de 2010