Enjoying Banda De Ipanema
Get ready for some serious street party in Ipanema!
There will never anything as raw, powerful and amazing than a street party during the Rio carnival. The amazing street parties are the real parties to be, aside from the carnival balls and the parade. And best of all, they are absolutely FREE. There is nothing more as intense and inspiring than to dance along the streets of Rio without all the inhibitions and all the drama of life.  Of course what other street party should you go in but to where the Banda de Ipanema plays their amazing traditional music!
Every year, tons of people, from different races, sex orientation, life intentions (LOL) come around to feel the amazing vibrancy of the Banda de Ipanema. The Banda Ipanema is a traditional street band and their music will certainly refreshing for those who have not experienced the amazing appeal of real Rio street parties. And of course, that place, Ipanema, immortalized by that popular song "Girl from Ipanema". It is a perfect setting to have fun along the majestic streets thriving with people in costumes, holding drinks, socializing with everybody else and just having a blast while having a bit of a samba lesson from a local. The amazing appeal of the place adds up to the appeal of the playing of Banda de Ipanema. Nothing else really comes close to this amazing street party.
One of the major major attraction of Banda de Ipanema is the parade of drag queens in creative costumes and performances. They interact with everybody, strike a pose, and make everyone's best pictures of Carnival. The highlight of the band parade is when it passes by the Church of Nossa Senhora da Paz. There is a tribute to compose Pixinguinha, who passed away in the church on a Carnival day, while attending to a baptism. The band stops and, after a minute or two of deep silence, start playing Carinhoso, one of his most popular songs. Everybody sings along, in a moment not to forget. Pixinguinha was one of Brazil's best composers and a strong Carnival figure.
If you want to see the Banda de Ipanema do their presentations and be part of it as well, you should be at the meeting point on both Saturdays – this year on February 09  – of the festivities around 17:30. Banda de Ipanema leaves from Praca General Osorio – right at subway station of the same name General Osorio – taking later the beach route, grabbing folks from the beach forming an ocean of followers. One of the biggest advantages of the Banda de Ipanema is that it is very diverse and many people from gays, to all walks of life go there to celebrate music, be happy and be free as Brazil is a very tolerant country. The beautiful scenes, the energetic vibe and the traditional street band music just makes this street party unique and worth watching.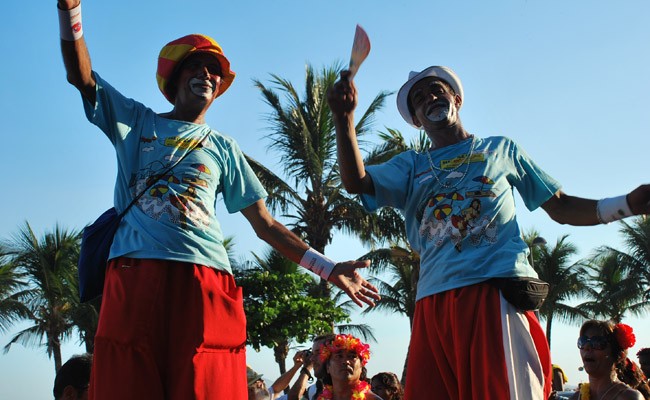 Banda de Ipanema was declared part of the cultural heritage of Rio de Janeiro in 2004, by the Instituto Brasileiro de Patrimonio Cultural, in a recognition of the important role it played in the rebirth Rio Carnival street parties.
IN 2009, there were about 400 street bands officially registered officially. Monobloco, the largest one, reportedly gathered over 400 thousand followers on the Sunday following the Carnival in the very Downtown area.
About Banda de Ipanema
Free event.
Meeting Point: Praça General Osório around 5 PM.
Marchs at 5:30 PM
Repertoire: old-time marchinhas mostly well known by cariocas, and from the days of Carmem Miranda.
02 de Jan de 2014