Discovering Canoa Quebrada
A beach village like no other, Canoa Quebrada is a great place to relax, to explore and to have fun
General info about Canoa Quebrada
Canoa Quebrada is a kind of beach village that can be found southeast of Fortaleza at the municipality of Arcati in Canoa. Sometimes, Canoa Quebrada is referred to as the village that is installed on red sandstone cliffs. Before, Canoa Quebrada is a hippie location but with modernization, this place is becoming more and more like a commercial location. Even if Canoa Quebrada is becoming more modern now, the majority of the residents still enjoy the views at Canoa Quebrada and the simple life. The climate is usually sunny and warm in Canoa Quebrada throughout the year.
Accommodations in Canoa Quebrada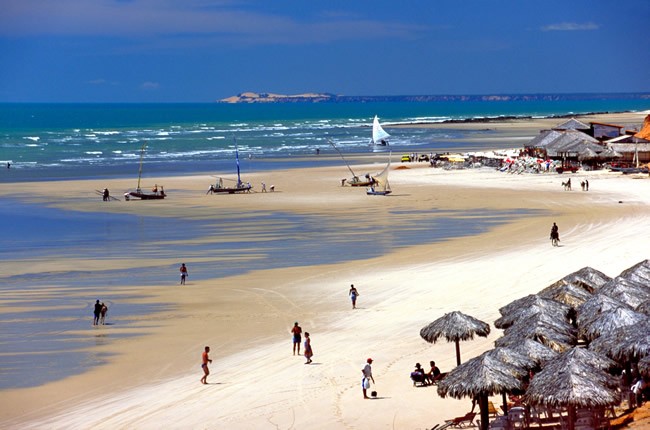 Although there are some hotels around Canoa Quebrada, the most used and the most popular are the posadas. The posadas are like hotel dwellings that are complete with all the amenities but is much more quiet than the hotel. Since the posadas are built into clusters across the estate, its location is much more complex than the hotel. Some of the pousadas could be by a massive cliff. Make your reservations early and make sure that you get the right one for your needs. One good option for budget hotel is La Dolce Vita and the deluxe and premium hotels are Tranquilandia and Long Beach Village.
Activities in Canoa Quebrada
In Canoa Quebrada, you can do so many things. First, you can go paragliding, kite surfing, ride a buggy across the Jaguaribe River and have a relaxing cruise by the river; you can also ride a dune buggy across the slopes of the shores of Canoa Quebrada. You can go to the beach and walk along the whole stretch. You should also try the food selections at Canoa Quebrada. There are fancy restaurants here and you can also have a drink at bars. Canoa Quebrada has a fun and simple appeal but a unique experience along the way.
Learn more about Canoa Quebrada: List of hotels, packages, tours and much more!
05 de Jan de 2011