The Cozy Piuval Pantanal Hotel In North Pantanal
A closer look at the Piuval Pantanal located in Pantanal North.
Inspected by our Hotel Expert team.
The Piuval Pantanal is a beautiful inn located in the municipal district of Barão de Melgaço, north of Pantanal , Brazil. Being just 10 kilometers from Pocone and around 110 kilometers from Cuiaba, the inn is very accessible through the highway.
The Piuval Pantanal is located among some beautiful and exotic scenery spread over 7 thousand hectares of pure nature. At Piuval there are a total of twenty comfortable air conditioned apartments that are equipped with all simple amenities like ceiling fans, mini bars, private bathrooms with hot and cold shower etc. Don't be fooled to think that you will not get some exclusivity in Pantanal, all rooms are equipped with a mini safe, cable TVs as well as telephone and internet connection. All the windows in the apartments are fitted with mosquito nets. Guests can expect a relaxing holiday in the calm and tranquility of the inn and its surrounding. The onsite restaurants at Piuval will let you enjoy a variety of delicious food, both local and international. The cuisines are freshly made and the fresh aroma of sea food cooking wafts through the air, tempting the guests to try specialty of the region. Food and drinks are served in the open air, too.
Plenty of leisure activities are available at the Pantanal hotel. Some of the amenities that are available are : Swimming Pool, Playground, Indoor Volleyball facility, Observation Tower, Bicycling etc.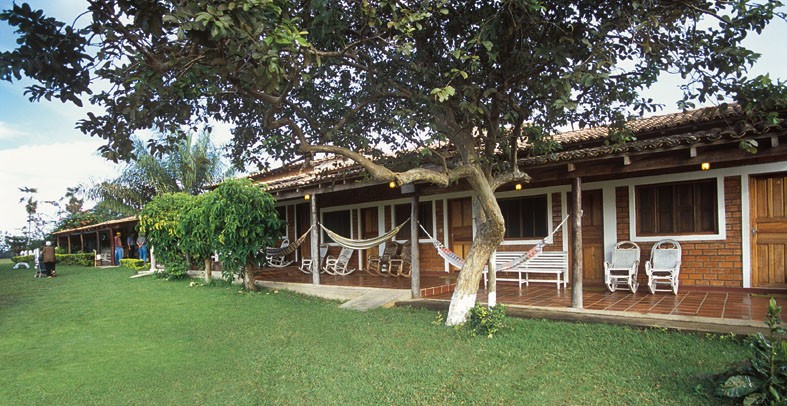 The area surrounding the Piuval Hotel, offers exotic outings. The vast area of Pantanal is considered to be one of the largest marshes, spread in an area of about 230,000 square kilometers. It is home to a wide variety of wild life and a tour around can easily be organized by the efficient staff of the inn. The beautiful Pantanal North, which is famous for its wildlife reserves, a vast and luxuriant wetland, offers some breath taking sights.
The Piuval Lodge is one of the best options in Pantanal area. Almost all major credit cards including, Amex, Diners Club, MasterCard and VISA are accepted .
Come and enjoy this place!
08 de Oct de 2013