The Continental Inn Hotel In Iguazu Falls
A closer look at the Continental Inn located in Iguazu Falls.
Inspected by our Hotel Expert team.
The Continental Inn hotel, located in Foz do Iguacu, offers a convenient position in the town centre. A multitude of entertainment options is available here. It can be conveniently reached if you are travelling by car or taxi. It is a mere fifteen minutes from the airport.
The hotel houses 111 rooms and 13 suites, each designed keeping in mind the requirements to make you comfortable. Rooms are very quiet with comfortable beds, double or single. The hotel complex is very innovative and every small detail is carefully thought out. The lobby is nice and big and is connected to the bar area and to another large area for snack bar and pool.
The coffee shop next to the swimming pool is a nice place to spend the evening at. Also you can take care of your gastronomical requirements at the restaurant. Or you may choose to pamper yourself at the sauna. You can also take a sip of your favorite drink at the sophisticated bars. There is a game room and playground to let your kids or the kid in you to enjoy. Also you can tone yourself in the fitness centre.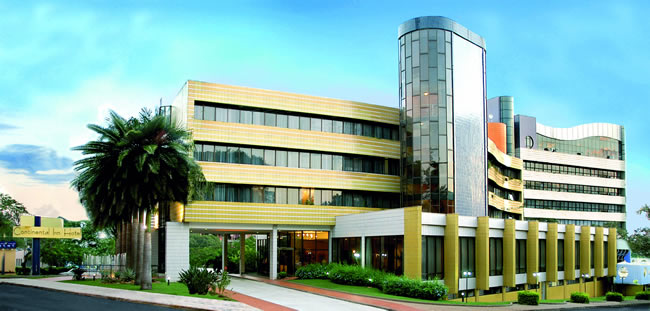 The ideal choice for family and kids for vacations, parties and in fact every sort of occasion. One can enjoy the rio safari by boat, or go hiking or visit the bird park. One can also go on a shopping spree or enjoy the day at the casinos, shows or nightclubs.
You are served by well trained, highly efficient staff that is always ready to cater to your needs with a smile. They make sure that you have nothing to complaint about.
The price is pretty reasonable and includes breakfast and parking. The hotel has a great menu, lavish buffet breakfast. Restaurant's buffet for dinner is also worth a comment.
The much talked about falls can be accessed both from the Brazilian side and the Argentina side from this place. In fact it is seen that there is so much to do that 24 hours will seem less. It is assuredly a stay full of fun, excitement and peace and rest at the same time. The warm hospitality and comfortable facilities make you want to come here again and again. Families, singles, kids and elders alike have a memorable experience.
The Continental Inn Hotel is the ideal place to be for those seeking sophistication, comfort and excellent hotel services.
Learn more about Iguazu Falls: List of hotels, packages, tours and much more!
16 de Jun de 2011