The Colonna Galapagos Garden Hotel in Buzios
A closer look at the Colonna Galapagos Garden located in Buzios.
Inspected by our Hotel Expert team.
Colonna Galapagos Garden hotel is located at the end of the Buzios peninsula, Brazil. The Joao Fernandinho beach presents a perfect view for the rooms of this getaway abode. It boasts of blending modern architecture with natural endowment.
In all there are 37 rooms including apartments and suites. Each is equipped with all the contemporary amenities like air conditioning, telephone, cable television, mini bar, safety deposit box and balcony. Rooms are maintained efficiently by well trained staffs who offer their services with a smile. The hotel management boasts of personalised staff and a mixed bag of leisure activities including artistic and cultural activities. It presents an all together different picture in hotel management. A completely relaxing stay along with absolute privacy is assured to its visitors. The Colonna Galapagos Garden has always been praised for excellent hospitality.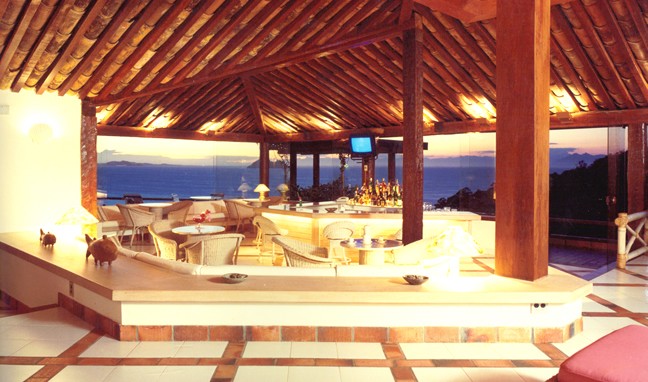 The swimming is itself grand and has an absolutely panoramic view. The Galapagos inn is as renowned as the hotel itself. Especially its theme parties and live concerts is a meeting place of Buzios nightlife. The active participation of its guests in town's cultural schedule is pretty famous. The exotic cookery stands out for its versatility.
Praia de Joao Fernandes offers you opportunity to dive and windsurf and in short have a great time. Fishing and boat rides are also offered through the islands. Dry sauna and steam to pamper you, gymnastics room to help you tone down this vacation, games room for fun activities and bars with music shows will keep you entertained throughout your stay. Covered garage facility is available for those who need it. Also internet facility is available to help you stay connected. As safety is of high priority, the Colonna Galapagos Garden hotel provides well trained security and emergency medical services.
For those who stay for serious purposes, well equipped Business centre is available at your disposal. Families, couples, singles, kids, elders alike enjoy the complete stay at the Colonna Galapagos Garden hotel. Comfortable rooms, modern facilities, fun activities, involvement in cultural activities; a completely rejuvenating experience. The warm behaviour of the staff makes you feel at ease in the unexplored place. Visitors will vouch for the cordial hospitality. It is something that makes them come back again and again.
Availability of rooms can be conveniently checked using the internet and bookings be done using the same. Assuring a wonderful stay at Colonna Galapagos Garden hotel, Praia de Joao Fernandes, Quadra B, Lote B CEP 28950‐000, Buzios Rio de Janeiro, Brazil.
20 de Dec de 2010