Choosing The Right Arraial Ajuda Hotel For Holiday
Come visit our glorious coastline and snooze in a hammock on the porch of one of the beachside hotels in Arraial Ajuda.
Arraial Ajuda is a district only 5 kms from Porto Seguro and is known for its lovely tropical beaches. At night the city is filled with music ranging from popular local tunes to hip-hop and rock. This area is especially popular for visitors who enjoy outdoor sports. These activities attract many tourists and there are well over 50 pousadas, lodges and hotels in Arraial Ajuda to select from.
As with other cities, there are several different types of accommodation available. The pousadas and hotels in Arraial Ajuda range from luxurious eco-resorts to smaller budget friendly pousadas. The resorts offer high end service with many amenities including boating, scuba diving, off road tours, tennis, swimming, and spa services. Expect to pay a higher price for this type of Arraial Ajuda hotel.
Hotels in Arraial Ajuda that are considered mid-range have standard services of other quality hotels including air conditioned rooms, Internet and a swimming pool but usually have extra amenities such as a gym, bar and restaurant. Many are located on Mucuge Road with beach access or coastline views.
The less expensive hotels and pousadas are mostly located inland, without direct beach access. Each Arraial Ajuda hotel of this caliber does offer air-conditioned rooms, Internet and usually a swimming pool. A bar is also a common site at the hotels. The budget hotels are mostly bare bones with simple air-conditioned rooms and Internet. However, it is quite common to find a hammock or two, strung across a shaded patio.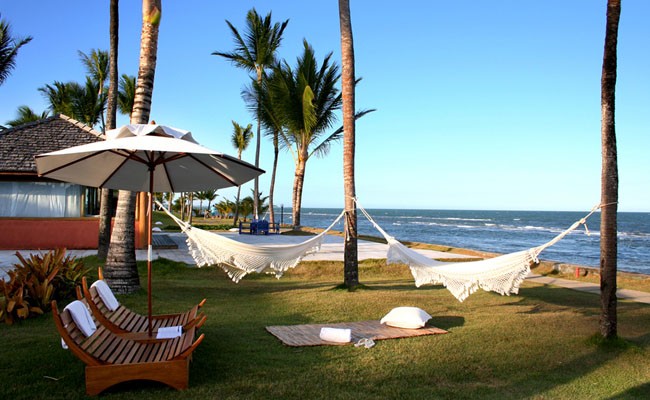 Since outdoor activities are so popular many of the hotels in the area offer their guests opportunities to participate in these sports. Canoes, kiteboards, and kayaks are usually available for rent. Tickets to the water park can be purchased at a discount and excursions can be arranged on foot, horseback, or 4X4 into the rainforest. Each Arraial Ajuda hotel has its own activity agenda. Why don't you make reservations to come down and join us today?
16 de Nov de 2010