Cataratas Of Iguazu: The Humbling Grandeur
Devil's Throat it's a majestic view to behold.
We all know those adventure movies where the adventurers seek the direction to get out of the jungle and reach the clearing. They follow the flow of the river and soon enough, the antagonists come over and another epic battle begins until the massive waterfall engulfs the bad ones and spares the protagonists. The what if they fell from Garganta del Diablo? The massive 350 foot waterfall formation consisting of 14 massive cataracts is part of the even bigger, grander and much magnificent Iguazu Falls. There is nothing more epic than to finish a movie battle on the edge of one of the most majestic locations in Brazil and undeniably, the whole world. The 275 waterfall Iguazu is popular for its majesty but one section of this U-shaped falls is much popular and notable and it is the Devil's Throat or Garganta del Diablo.
The 14 massive cataracts of Garganta del Diablo: From the Brazilian side, you can take a boat ride across the river and have a wet blessing from the 100 foot cloud of water spray. The resulting force creates a majestic rainbow formation that is utterly amazing and humbling. The Garganta del Diablo is undeniably one of the best attractions of Iguazu falls and it just shows how powerful the nature is in creating such things like the Devil's Throat.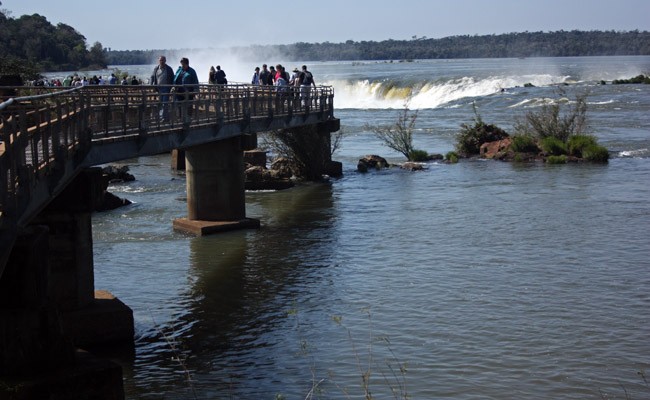 The Garganta del Diablo is protected by the Iguazu National Park. This park is shared by both Argentina and Brazil. The amazing appeal of the falls attracts many tourists from Europe, America, and Asia. The impeccable sceneries you will see will truly send chills down your spine. The term Devil's Throat may seem too severe but it is definitely fitting for those antagonists on movies who fell prey to the violent drop of water. Of course it will be set to CGI but in movies, what we care about is the experience. in real life, the majesty of Garganta del Diablo will certainly send spine tingling sensations and a humbling experience on how an entity manages to form everything so majestic and grand.
Learn more about Iguazu Falls!
List of hotels in Iguazu Falls, packages, tours and much more!
24 de Oct de 2010