The Casas Brancas Pousada Hotel in Buzios
A closer look at the Casas Brancas Pousada located in Buzios.
Inspected by our Hotel Expert team.
Casas brancas hotel is located in the lap of the hills in Buzios overlooking the bay of Buzios. Just two hours from Rio de Jeneiro it defines the perfect location. The hotel has a stunning architecture with the great part painted in white. The style is extremely sophisticated. The hotel has yellow glass doors in every room with white curtains giving the feel of a typical South American beach cottage. Most of the rooms are stone floored with wooden furniture featuring this hotel as a haven for beach lovers.
The hotel in all has 32 rooms putting itself in the category of small luxury hotels. Every room has a balcony with palm trees peeking in and overlooking the exotic beach. Most of the furniture is either draped in white or is wooden. The ambience of every room is utterly alluring. You can't keep your eyes of the exquisite design and ornamentations. This hotel defines paradise if paradise is a beach. The hotel has the facility of pousada boats for the sea lovers. The staff is extremely efficient, warm and multilingual. The stay cannot be defined more luxurious. The hotel is surrounded by 20 breathtaking beaches. But ironically you don't need to visit them because this hotel truly gives you a beach experience combined with the modern day amenities.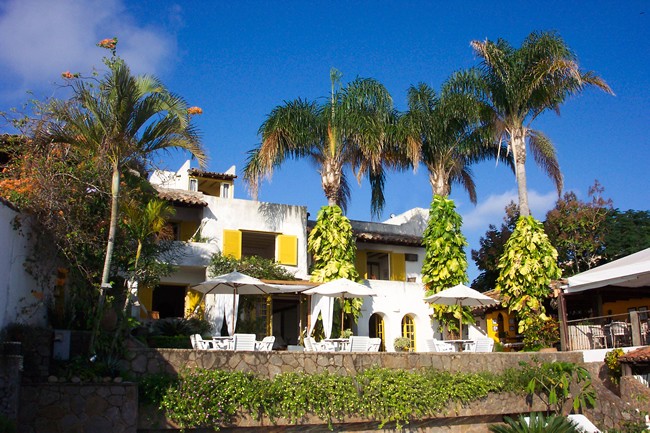 The rooms are equipped with air conditioning, cable television, minibar and a hair dryer. A free Wi‐Fi area is also offered in the social area. The restaurant offers the traditional Mediterranean mouth watering cuisine along with some local Brazilian dishes. The wooden verandah adds on to the experience of fine dining. The restaurant is open all the time and non‐guests are also welcomed. The restaurant overlooks the bay of Buzios creating a typical Mediterranean ambience.
The bar is posh with Italian champagnes and a warm bartender at your service. The milieu of the bar is analogous to finesse. Every creative ornament has been very carefully picked up. The ambience is far from cluttered. With the immense quietude and the quick service the stay is worth. The hotel provides with the state of the art spa facilities. Pamper yourself to the core with the excellent massage treatments and body therapies offered by the hotel.
In all, the cozy atmosphere and the sensational sunsets, dawn, dusk seems overwhelming and the whole of the day gets better and more relaxing by the minute. The booking can be done online. Do have a virtual tour of the hotel.
Learn more about Buzios: List of hotels, packages, tours and much more!
06 de Jun de 2011