Carnival Costumes Rio: Your Passport to Ultimate Street Dancing
If pure fun and thrill are what you are looking for in this ultimate Brazilian trip, you might as well put on the grandest and most probably the skimpiest garb and participate in the samba parade
There is no doubt that you could be missing half of your life if you do not get to go to Brazil and watch the carnival in Rio. However, you will certainly lose more if you do not get to dance along with any of the samba schools wearing one of those beautiful carnival costumes.
But How Do You Do That?
Before you obtain your carnival costume, there are a few things you need to remember. First, you need to have an idea when the actual event is going to be. Unlike other festivals, the schedule for the Rio Carnival changes every year. It depends on when the Easter Sunday is. Then you are going to count 40 days backwards. That would be most likely the date of the next Rio Carnival festival. The entire festivity would usually last for 4 days, though it is pretty common for the past several years to extend it up to a week.
You need to know the schedule because if you are planning to join the parade, you should have ample time to pick your carnival costumes Rio and have them sent into your home/hotel. Just in case they do not match your preferences, you can always have them returned and reorder. You can go to www.brazilbookers.com to get the dates for the Carnival for the next 5 years.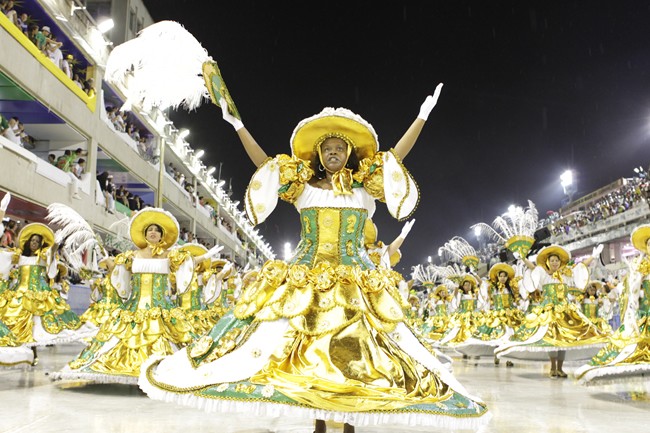 You can also better prepare yourself for the actual dancing. In case you do not know it yet, the Rio Carnival is actually an actual competition among samba schools. Hence, it is expected that they are going to perform samba.
There are several samba schools all over the world, so you can definitely find one where you can enrol. Though it is not necessary for you to be part of the rehearsals of the samba schools joining the parade, it is less embarrassing if you do not appear like you have two left feet. Also this can make your samba school lose important points.
You can also get acquainted to the samba song. Yes, every group has its own beat to follow, and if you do not at least have an idea of what it is, it will be basically harder for you to match your steps to the rhythm. Besides, the music will get you more excited for the actual event. The music will be online probably 4 to 3 months before the parade, and you can download that and listen before your trip.
Who Are You Going to Dance With?
Now do not feel too pressured about performing superiorly. There are two groups during the Rio Carnival, and you would definitely dance together with the access group. These are the samba school performers who hope to compete during the two-day special parade next year. They are more than willing to invite those who want to have fun and perhaps even join the special parade the following year.
Which access group can you belong to? You can check out websites that offer tickets to the carnival, such as www.brazilbookers.com. They usually have a list of which groups accept leisure dancers. And they also sell the costumes, publishing its pictures and prices online. Costumes for the Special league are also available. Usually most of the costumes are done by the Samba Schools 4 to 3 months before the parade.
Do not miss out the opportunity to become a carnival dancer. Get any of the fabulous carnival costumes as soon as they get online.
19 de Feb de 2014