Camarote Carnival Rio – Luxurious Way To Catch All The Rio Carnival Fun
Want to rub shoulders with the cream of society while partying at Carnival festivities? It's possible if you have Camarote Rio 2014 tickets!
Sambodromo is the stage for the greatest party on the planet and the most expensive place to be is at a Camarote or Luxury Suite. These areas are designated for VIPs and Rio's most celebrated names. Some luxury suite tickets are for guests only and are not available for sale. Other tickets can be bought and are available for those who want to be part of the fun in great style. Depending on the ticket you have you can meet socialites, international stars, soccer players, diplomats, politicians and fashion models.
Rio Carnival Camarote tickets are the most expensive and elite seats that offer comfort, style and good views of the Parade. They have exclusively covered places and also offer a range of services like buffet with fruits, salads, entrees and drinks such as champagne, Scotch whisky, beer, vodka and wine. Waiter services and security are provided throughout the proceedings.
At the luxury suites the windows are not wide enough to accommodate all people simultaneously. You will need to practice some etiquette here to avoid jostling with others. It's possible for a group to book and join together a luxury suite in order to occupy an entire window, but it comes at a special price.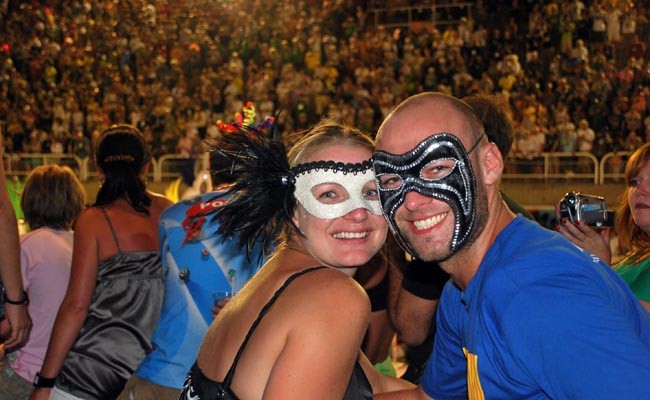 Camarote tickets are sold out a few months before the carnival and you need to purchase your ticket as you as possible, if you want to have these most desired tickets to the samba parade.
Don't you want to be a part of the exclusive Camarote Rio 2014 experience?
If you need more info on the best tickets for the parade, check it here!
15 de Feb de 2014
2 COMENTÁRIO