Brazil's Most Loved Beach Terrain, Copacabana!
If you want to get acquainted with Brazil's culture and enjoy your vacation to the hilt, then Copacabana is the destination.
Copacabana is an exciting place where you can let loose, understand its culture and meet some really nice local people, known to be friendly, warm and loving. The Copacabana neighborhood of Rio de Janeiro is located in the city's southern zone and famous the world over for its seaside strip by the same name that stretches over four kilometers.
Avenue Princesa Isabel marks the beginning of this district which ends at lifeguard watchtower Posto Seis. Until 18th century, the district of Copacabana was known as Sacopenapã and later renamed inspired by Virgin Lady of Copacabana, Bolivia's patron saint and given the status of a city.
Copacabana is a great place for tourist and has no dearth of good hotels and hostels for accommodation, besides an array of beachside cafes, fine restaurants, bars and swanky nightclubs that are scattered on the promenade.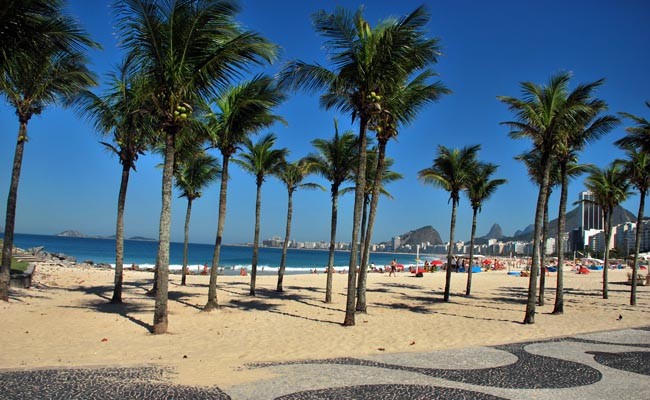 Home to one of the world's renowned beach, Copacabana has long been as a hotspot for travelers. Copacabana beach is flocked by tourists all the time and has a wide range of interesting activities and sights along its shores where you can get a deluge of eatables and services from fresh pineapple to massages from friendly vendors.  A few kiosks that offer snacks and refreshments are open around the clock. Whether you are looking to get gorgeous tan, play a game of volleyball or beach soccer or just swim in its pristine waters, Copacabana is tempting to all. It is the FIFA Beach Soccer World Cup's official venue as well as a gregarious host to millions during Rio's fabulous celebrations on New Year's Eve. Also, there are historic forts at both ends of the beach and are a must see for tourists.
Great places to stay include Windsor Guanabara, Miramar, Porto Bay Rio Int'l Dlx, Windsor Excelsior and Astoria Copa. If you're looking for five star accommodations then try Pestana, Sofitel Rio, JW Marriott or Sheraton Resort.
The exuberant neighborhood with its fantastic beach makes for one great South American escapade.
Are you up for some true Copacabana fun?
10 de Oct de 2010