The Blue Tree Towers Porto Alegre Hotel in Porto Alegre
A closer look at the Blue Tree Towers Porto Alegre located in Porto Alegre.
Inspected by our Hotel Experts.
Blue Tree Towers is a superb hotel in Bela Vista, Porto Alegre, Brazil. This four starrer has a very convenient location as it is a mere ten minutes to down town.
The hotel offers in all 131 rooms over twelve storeys. They are classified as superior rooms and suites.
Each room has a wonderful décor and elegantly furnished. They are fully equipped with everything to make you comfortable. The rooms of the hotel are spacious and quite stylishly decorated. The rooms are designed to impress you and they do, the rooms have air conditioning, cable TV for your entertainment,  it also has hairdryers and mini bar so that you enjoy your every time, the rooms also has telephone and voice mail facilities so that you communicate with your friends and hotel staff really easily. The hotel also provides wake‐up services which ensure that your time table isn't disturbed. The hotel also provides high speed internet access at all times so that you can easily stay connected to the outside world during your stay at the hotel.
Gastronomy is wonderful here. The Gaia restaurant in the lobby area is commendable. It has two main options; the sushi and the international. Japanese guests will feel exactly at home with the wonderful sushi served. The international cuisine also more than just satisfies your taste buds. The place is really well suited to spend a great evening with your friends and family.
The hotel provides a sauna and a swimming pool with a wonderful view. The hotel also has a gym where you can workout with good trainers. The hotel also provides 24 hours room service which makes your stay as comfortable as possible. The service is prompt and makes sure you have nothing to complain about. They really make you feel special. The hotel has a lounge and bar where you can have some of your favorite drinks with your friends. The reception desk at the hotel is always at your service and to cater to your needs. The hotel also provides lifts.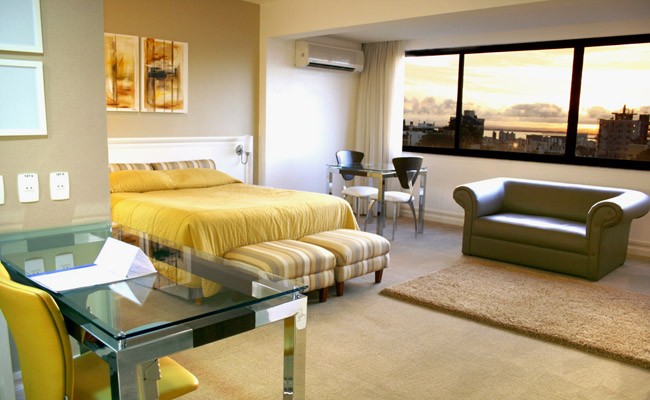 The hotel provides facilities like photocopying, internet and fax so that you can stay in touch with your friends away too. The rooms for the hotel can be checked for availability and their prices and booked on the internet and you can choose from many available packages too whenever you wish to pay a visit to Blue Tree towers, Brazil. So, if you wish to enjoy a relaxing holiday in Brazil, Porto Alegre is a wonderful choice to unwind and while there, very few hotels can beat the facilities and services offered by Blue Tree Towers.
11 de Oct de 2010