Beija-Flor Samba School – The Crowd Pleaser
Beija Flor knows just how to wow the crowd.
When it comes to pleasing the crowd and producing professional shows for the Rio carnival, no other school does it with perfection than Beija Flor. Scoring high and pleasing crowds all the time, Beija flor samba always got its act straight. You should certainly not miss out on their performance and it will surely put you to the highest level of glee.
The only Samba school at the Nilopolis district, the Beija Flor was created in 1948. In their initial run, the school had nothing so they had to be resourceful and used leather and empty barrels for their drums. By 1954, the school joined their very first parade and was easily sent to the second group. In 1963 and then 1973, the Beija Flor was sent to first group. It had its very successful run as an overall champion in the late 1970s, 1980s and in 1998. By 2001, the group won 2nd place with high honors and by 2003 and 2004 it won first place. They have the most fantastical plots with a lot of imaginative imagery. They use their controversial plots really well and they keep an even keel on performances as well as in music.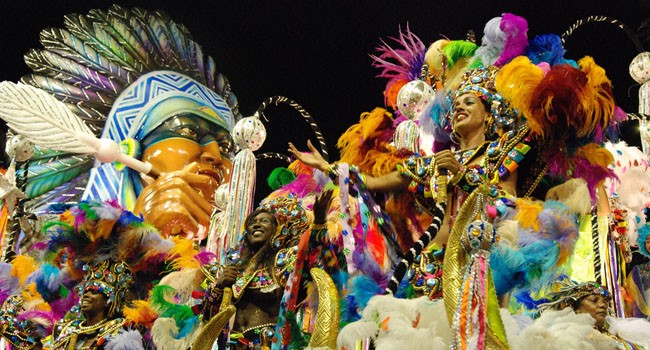 The Beija flor samba is always a force to reckon with in the Rio carnival. Their symbol is the humming bird and their colors are blue and white. They have 3800 members and counting and their costumes are some of the most notable things about the group. Annually, no one can deny it, but Beija Flor is the most anticipated groups to be seen in the Rio Carnival. Their work is always polished, amazing and strong and their competitive edge always comes out as refined, well planned and undeniably chic.
Learn more about Beija-Flor Samba School and the other Samba Schools.
12 de Sep de 2014