Beija-Flor de Nilópolis – 2011 Rio Carnival Samba School Series
Learn the Samba and Synopsis of Beija-Flor de Nilópolis Samba School for 2011 Rio Carnival
Synopsis for 2011
Theme: " A simplicidade de um Rei" (The simplicity of a king)
Considered a King in Brazil, Roberto Carlos is a favorite.  The songwriter and singer has had a huge influence throughout generations, his 50 year career granted him a Grammy award and a legacy of loyal fans. Needless to say that the singer's life is well worth being  displayed in a magnificent parade by  Beija Flor School. The  Hummingbird school or Beija Flor is counting with  the presence of famous coreographer Carlinhos de Jesus to coordinate and coreograph to perfection one of the school's wings. So you can expect only the  best of  Beija flor  in this year's parade and like one of Roberto songs, "If I cried or smiled, the important thing is that I lived many emotions",  you can be sure that many emotions will be lived in Beija Flor's 2011 carnival.
More About the Beija-Flor de Nilópolis
Beija-Flor First of all, it's helpful to know that Beija-Flor means humming bird in Portuguese, which is the  Samba School symbol.
The Beija-Flor Samba School is one of the most  professional schools in Rio de Janeiro. Beija-Flor Samba school usually scores very high in the rankings during Rio Carnival  Parades and is a huge crowd favorite during the samba parades, especially for its richness. Beija-flor gets all the attention when it enters the street stage of the sambadrome, in an impressive ocean of colorful costumes and millions of  natural feathers sure to attract the attention of Cariocas and tourists a like.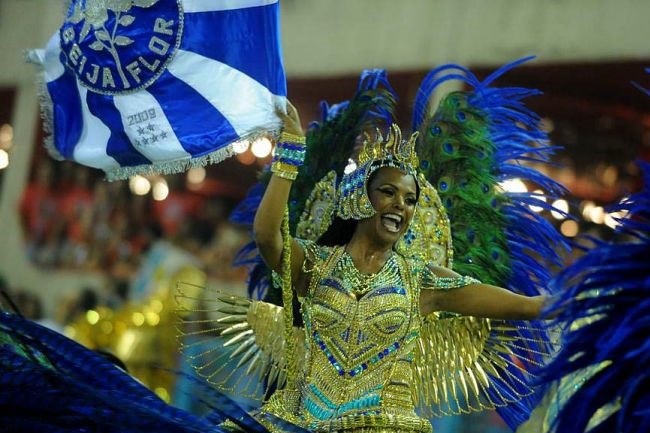 Theme for 2011: A Simplicidade de um Rei
Parading Date and Time: 3/7/2011 2:25:00 AM
Colors: Blue and White
Rainha (Queen): Raíssa Oliveira
President: FARID ABRAHÃO DAVID
Carnival Art Director: Alexandre Louzada, Fran-Sérgio, Laíla, Vítor Santos e Ubiratan Silva
Download the Song for 2011, Learn More about Beija-Flor de Nilópolis
29 de Dec de 2010