Ask Koko
Koko has been adopted by Bookers International to be its voice and  its fun mascot.
 We bring you our mascot Koko Silva, the sposkesparrot who knows all about Rio de Janeiro and who always  has tips about carnival. To stay up-to date with the biggest party on earth, follow Koko on the social media.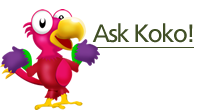 As a very outgoing bird who loves to travel, Koko knows everything about Brazil and is very experienced in other south American destinations.
Ask Koko just about anything and you will be answered by email.
After all, Koko loves to talk and he does talk a lot.
ASK ME! ASK ME! ASK ME!