The Arraial D'Ajuda Ecoresort Hotel In Arraial D'Ajuda
A closer look at Arraial d'Ajuda Ecoresort
Inspected by our Hotel Expert team.
Arraial d'Ajuda Eco Resort is the ideal place to be if you wish to get close to nature and away from monotony of daily life. Built in Arraial d'Ajuda, southern Bahia, Brazil: it is an exemplary eco resort.
Many eco resorts may boast of many features but Arraial d'Ajuda Ecoresort is one of the very few that can proudly claim to have its private beach and port. Not to forget, to live up to its expectations, the resort provides each and every facility under the sun. Housing 157 apartments as well as 12 suites, each room in this exquisite eco resort makes you feel like a king during the stay. All modern facilities are available at your disposal including air conditioning, cable television, internet access, Jacuzzi, and more.
You cannot fall short of options of what to do when at Arraial d'Ajuda Eco Resort. Restaurants, gym, fitness facilities, sauna, pools, pub and all to keep you entertained day in and day out. The stay is made even more memorable by the tropical environment that makes the atmosphere tranquil and soothing. Coral reefs, blue sky, calm waters, all induce to a sense of completeness and at the same time inspire you to do more.
Those who have experienced the stay will vouch always for the excellence in service, the convenience of its location, good food, breathtaking scenery and a perfect vacation destination. Tourists can visit Porto Seguro, only three kilometres from the resort, enriched with Brazilian history, see the Discovery Museum or if you have the time visit the Monte Pascoal National Park. Couples, singles, families, kids and elders all enjoy the complete Arraial d'Ajuda experience. The blend of nature and contemporary is so perfect that you can clearly see how the two are related. Completing the fairy land is a spring that was discovered by the locals in 1549, that is said to have healing powers and is miraculous.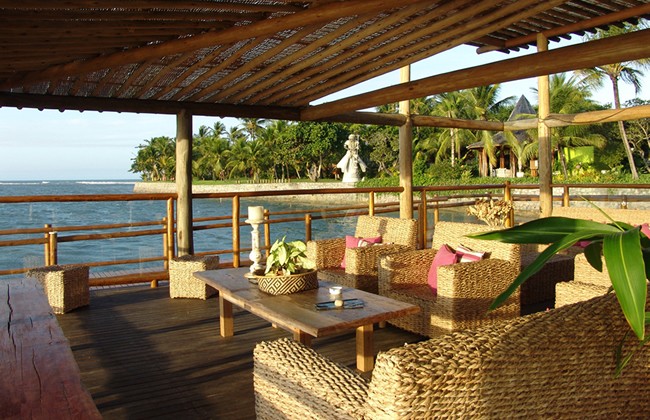 You do not need to worry about cash and valuables just leave them in room safe. For convenience, credit cards including Visa, American Express, Diners and Mastercard are accepted.
The congenial staff, beautiful surroundings, luxurious facilities, and everything to make your stay memorable makes visitors chose Arraial d'Ajuda Eco Resort a favourable pick. Availability of rooms can be conveniently checked using the internet and bookings can be made as well. Rest assured, the visit will leave a smile on your face.
Wanna learn more about Arraial D'ajuda and check a list of hotels in there?
04 de Oct de 2013