The Anavilhanas Jungle Lodge Hotel Overview
A closer look at the Anavilhanas Jungle Lodge
Written by our Hotel Expert team.
The Anavilhanas Jungle Lodge is a small and charming lodge that brings together nature and comfort in a subtle and harmonious way. It is located 100km from Manaus. The strategic position is accounted for it being placed in front of Anavilhanas Archipelago, which happens to be the largest fluvial archipelago of the world. One can comfortable avail the transfers from Manaus to the lodge in air conditioned vans and to Novo Airão crossing the Negro River by ferryboat.
There are 16 simple rooms, very comfortable, adorned with beautiful regional arts and crafts and equipped with air conditioning, mini bar, fridge, and bathroom with hot shower and a private balcony with hammock. At night the lodge is tastefully lit and has a relaxing atmosphere. There is also a small swimming pool with a privileged view of the stunning surrounding landscape and river. The main area of the lodge has an intimate bar, a TV with a selection of DVDs, many books, pool table, and sundeck.
The four exclusive luxury rooms are exceptional being larger and being comfortable individual bungalows. They have a splendid view of the Negro River and the Anavilhanas archipelago and offer 32 LCD TV, work table, ceiling fan and King Size box bed. Treat yourself to the best in Amazonian and international cuisine in the restaurant, which definitely is a highlight. Also there is a bar to let you sip your favorite drink when you wish, a game room with snooker and board games. Television and internet facilities are provided for your entertainment and a library at your disposal too. The swimming pool invites you to take a dip and offers you a wonderful view too. The hammock area lets you simply lie down and relax.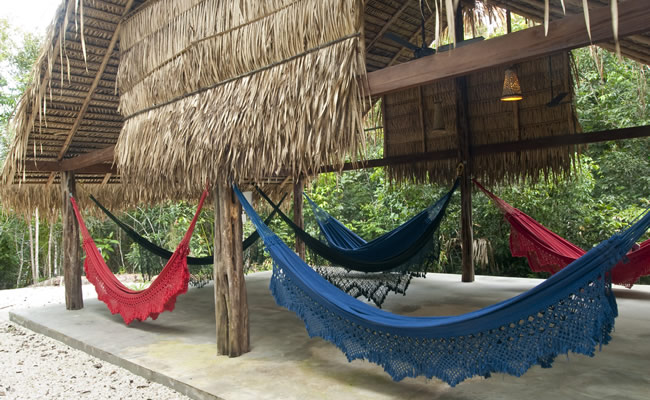 You can take a canoe ride into the maze of islands and lakes in sturdy wooden canoes designed for stability and comfort. In the wet season vast forest areas are flooded and canoe is the best way to see the reserve. Enjoy a guided nature walk through the forest and learn about the flora and fauna from your experienced local guide. Other activities include local village visits, piranha fishing and night searches for caiman. In the dry season it is also possible to visit river beaches and sandbanks.
So, when you plan a relaxing holiday, close to the nature, book your room at The Anavilhanas Jungle Lodge and set for Manaus, Brazil. You can be assured of dream Brazilian holiday!
Learn more about the Anavilhanas Eco Lodge.
Explore other lodging options in the jungle like the Ariau, the Ecopark, Tiwa and Juma.
30 de Jun de 2011