All You Want to Know About Angra dos Reis
Its name means 'Bay of Kings' and it does full justice to its name. Its Angra dos Reis, which would make even a king, fall under its magical spell.
Angra dos Reis or Angra, as it is fondly called by its residents has dozens of secluded beaches and over 365 islets and islands all of which are magnificently beautiful. It is a popular destination for Brazilian and international travelers and many famous Brazilians have bought private islands in the area. Angra dos Reis is located on the Fluminense Green Coast on the fringes of the Rio Santos Highway and is well connected with Paraty and Rio de Janeiro by a fleet of regularly scheduled buses. You can reach the main attractive island of Ilha Grande by fishing boat or ferry and the island called Ilha da Gipoia by fishing boat.
Ilha Grande is the largest island of Angra dos Reis and is much sought after by those interested in trekking and diving. It has dazzled visitors for centuries with its gorgeous beaches, and hillsides covered with lush tropical forests. Most people come to Angra dos Reis to stay in the charming inns and 5 star hotels and resorts which offer modern amenities, beautiful views and secluded beaches.
The second largest island is Gipoia which is famous for its snorkeling spots and magnificent beaches. It is just 30 minutes away from Angra. Jurubaiba Beach and Praia do Dentista are more crowded beaches where you will find floating bars serving drinks and snacks to boats. Juruba beach is more peaceful and isolated and can be reached only by canoe.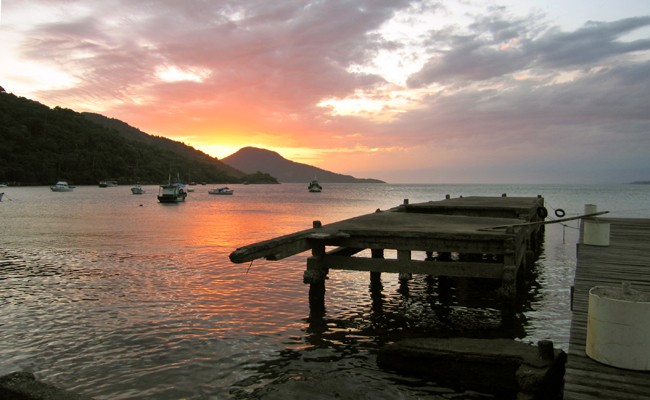 Diving is a popular activity in Angra because of its crystal clear waters, good average temperature of 23 C and excellent visibility. The waters near the shores of Josefa, Bradao, and Papagaio are good for spotting coral, sponges and colorful fish. At some places, the fish are so abundant you can see enormous schools from the boat itself.
Other popular activities include snorkeling, scuba diving, sailing, hiking, going on trails and kayaking.
Don't you wish to fall under the charming spell of Angras do Reis?
18 de Nov de 2014