Acadêmicos do Salgueiro – 2011 Rio Carnival Samba School Series
Learn the Samba and Synopsis of Acadêmicos do Salgueiro Samba School for 2011 Rio Carnival
Synopsis for 2011
Theme: " Salgueiro apresenta: O Rio no cinema" (Salgueiro  presents: Rio in the movies)
Salgueiro school   will bring the magic of the cinemas  into the sambadrome. The red and white school will be counting with the help of  an approximate of 5 million Reais from Fox film Brasil, that will be sponsoring  this year's parade with the intention of promoting the movie "Rio 3D", an animation produced by the director Carlos Saldanha, who also directed the movie  Ice age. In the avenue, Salgueiro  will relive great movies that  were shot in Rio and had an international repercussion. Among them are the  Brazilian movies City of God, Elite Squad and the american movie Incredible  Hulk. The different stages of Brazilian cinema and renowned  brazilian film makers will be mentioned throughout  Salgueiro's 2011  parade.
More About the Acadêmicos do Salgueiro
The Salgueiro samba school is another crowd puller, with lavish costumes, elaborate dances, and well choreographed themes that are the school's high points every year at the parade. The school is a result of the combination of two samba schools with their first performance in 1954. They may not have won many titles, their last being in 1993, but their creativity has what makes them popular with the public. Salgueiro runs Aprendizes do Salgueiro, a junior samba school that trains children to compete in the junior samba competition the Friday before the Carnival. For years, the school has been a favorite among the middle class.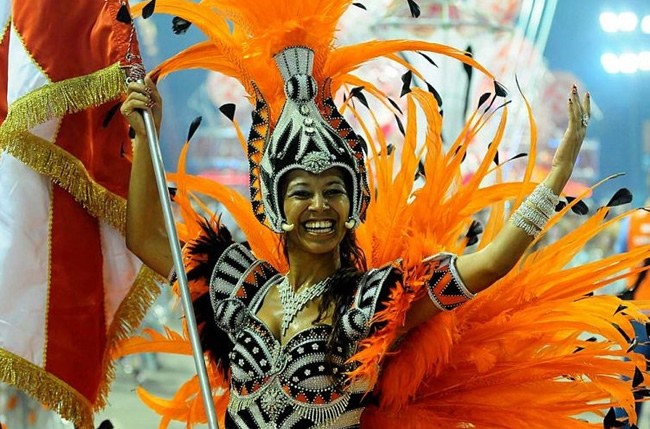 Theme for 2011: Salgueiro apresenta:  O Rio no cinema
Parading Date and Time: 3/7/2011 10:05:00 PM
Colors: Red and White
Rainha (Queen): Viviane Araújo
President: REGINA CELI FERNANDES DURAN
Carnival Art Director: Renato Lage
Download the Song for 2011, Learn More about Acadêmicos do Salgueiro
28 de Dec de 2010