Acadêmicos Do Grande Rio – 2011 Rio Carnaval Samba School Series
Learn the Samba and Synopsis of Acadêmicos do Grande Rio Samba School for 2011 Rio Carnival
Synopsis for 2011
Theme: "Y- Jurere Mirim – A Encantadora Ilha das Bruxas ( Um  conto de Cascaes)" ( Y- Jurere Mirim – The Enchanted Island of Witches – A  Cascaes tale )
Grande Rio  will be the only school in the special  group bringing indigenous myths and Brazilian folklore, themes that are very  dear to Carnival.  Grande Rio  is celebrating the city of Florianopolis  and Franklin Joaquim Cascaes (1908- 1983)   a very talented man that dedicated his life to keep folklore and the  Magic Island alive.
More About the Acadêmicos do Grande Rio
Grande Rio Some of the best  trained Samba dancers come out of the  Grande Rio  School.  And while there costumes are spectacular and  flamboyant and their floats powerful and impressive, it is the dancing that  most people come out to watch  Grande Rio  when it performs at Rio de  Janeiro Carnival. The Grande Rio samba school is also the preferred grounds for  actors and actress of Brazilian media giant Globo Television for that reason,  always awaited with great expectation by natives who have an opportunity to see  their local stars from a close distance, dressed up in extravagant outfits and  atop of  Grande Rio  many floats.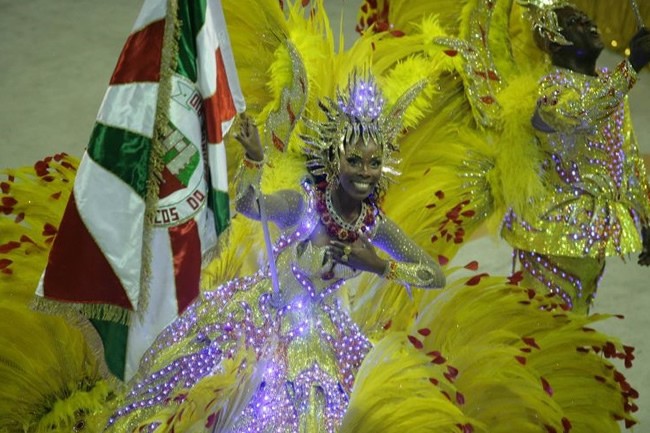 Theme for 2011: Y-Jurerê Mirim – A Encantadora Ilha das Bruxas (Um conto de Cascaes)
Parading Date and Time: 3/7/2011 12:15:00 AM
Colors: Red, Green and White
Rainha (Queen): Cris Vianna
President: HÉLIO RIBEIRO DE OLIVEIRA
Carnival Art Director: Cahe Rodrigues
Download the Song for 2011, Learn More about Acadêmicos do Grande Rio
27 de Dec de 2010